Beth Kendrick's Heroine's To-Do List The Week Before The Wedding
Tue, 05/07/2013 - 5:43pm — admin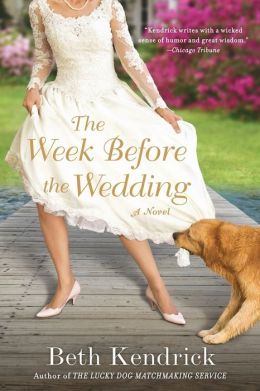 It's obvious that any wedding — from an intimate gathering to a lavish celebration — takes planning. And in Beth Kendrick's latest release, The Week Before the Wedding, heroine Emily McKellips definitely knows a thing or two about arranging her big day. She's spent years getting her life sorted out. Now that Emily's dream wedding is near, there's nothing that can go wrong — that is, until her first husband shows up. But ex-husband drama aside, there's a ton to keep Emily busy. We asked the author to share what her heroine has on her wedding to-do list, and she was more than happy to share.
***

TO-DO LIST:
Drive to rustic resort in Vermont with brilliant, handsome fiancé to prepare for wedding that would make Martha Stewart proud.
Write thank-you notes for bridal shower. Thank Aunt Darlene for crock pot; pretend you can bake something other than frozen pizza and Jell-O shots.
Have mani-pedi and massage. Do yoga. Drink green tea and avoid vodka. No, for real, put the bottle down. Chastise maid of honor for being bad influence. Thwart her attempt to spike punch at bridesmaids' tea. Relent when she blackmails you. Remind her that threatening to tell your future mother-in-law about the time you went to New Orleans with that rock band is not cool.
Make sure no one rips, stains, touches or breathes on heirloom wedding gown. Curse groom's mother and grandmother for having waistlines like Scarlett O'Hara. 
Keep makeup, glitter, and maple syrup out of hands of adorable flower girls who are on a rampage due to a week long sugar high.
Hide sharp implements from mother of bride and mother of groom as they wage passive-aggressive battle of wills. Wonder if knitting needles and bejeweled stiletto heels can be considered "deadly weapons."
Try not to think or talk about disastrous "starter marriage" and ex-husband of ten years ago.
Have heart attack when ex-husband shows up, unannounced and uninvited. Consult Emily Post; realize that she did not cover this situation.
Hike into woods for primal scream session while ex-husband charms all the wedding guests. And goes fishing with the groom.
Ignore simmering sexual chemistry between self and ex-husband.
Beware bridesmaids who plan "secret" bachelorette party that involves a huge stack of dollar bills.
Wake up at dawn and go running every morning. Follow up with more green tea.
Do not think impure thoughts about ex. Do not, do NOT… Forget it, pass the vodka.
Attempt to keep serial-marrying, gold-digging mother away from aging widowers with hefty stock portfolios from groom's side of guest list.
Make life-altering decision about whom to marry before you make the biggest mistake of life.
You can pick up a copy of The Week Before the Wedding, available in stores now! And for more drama filled reads, visit our Everything Mainstream Page.