Beth Kery on Amnesia, Sex and the Alpha Male - With Giveaway!
Mon, 12/06/2010 - 11:55am — admin
With a hunky ex-navy hero, steamy love scenes and a whole lot of suspense, Beth Kery's new erotic romance, Explosive, is just what the doctor ordered to clear away the winter doldrums. Now the author talks about the influence of her favorite soap opera on the creation of Explosive and goes behind the scenes to share the spin she put on her classic alpha hero. And don't miss your chance to win a copy of the new novel at the end of the post!
I'm trying to think back to the original creative whims that were the seeds to my upcoming steamy romantic suspense, Explosive. Probably, the impetus came from the soap operas I used to watch like One Life to Live and the over-used theme of amnesia. But wait, before you roll your eyes and stop reading, let me say that after earning a doctorate degree in the behavioral sciences and working in ICU's, traumatic brain injury units and emergency rooms, I felt like I wanted to write about the topic of memory loss from a different vantage point. Don't get me wrong, Explosive isn't a medical story, it's a romance. But I did think I could contribute some realism to the much misunderstood and sensationalized topic of memory loss.
GIVEAWAY ALERT: Three lucky winners will receive a copy of Kery's new erotic romance, Explosive. To enter leave a comment below about how you wish your life were more like a soap opera — or why you are glad it isn't! You can also email your comment here with your mailing address and the subject "Beth Kery's Explosive Giveaway." One entry per person please. The winners will be announced December 21st.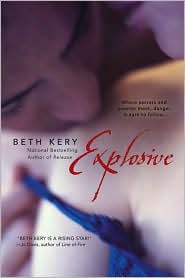 BLOG UPDATE 12/21/2010: And the winners are ... Anne F., Dottie T., and Susan R.