Between The Covers Of Into The Dreaming By Karen Marie Moning
Fri, 04/20/2012 - 2:58pm — admin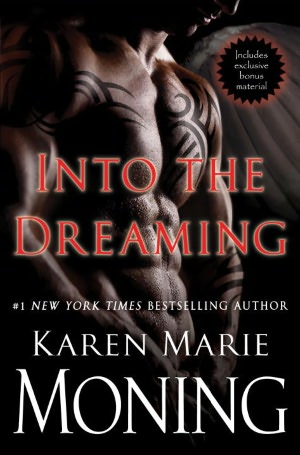 Everyone who follows this site knows that I'm a huge Karen Marie Moning fan. (It wasn't too long ago that I chatted about the cover of her new graphic novel, Fever Moon, and the next traditional book in her Fever world, the spin off Iced.) But, I don't think that I mentioned that Moning's Highlander series might just be one of my all time favorite series in romance! The hunky Highlanders are certainly a hard act to follow, and I can't help but feel a kinship for her romance-loving heroines. When I found out that not only would the author be re-releasing her novella "Into the Dreaming" with 100 pages of bonus material, but that it was being previewed on Moning's Facebook page? I could barely contain my excitement!
"Into the Dreaming" is a precursor for Moning's Fever series. One might even call it the bridge book between Moning's always sizzling Faery books and the dark adventure waiting for heroine MacKayla Lane (and now in the new series in the Fever world, leading lady Dani O'Malley). The short story was originally released in the 2002 anthology Tapestry along with novellas from Lynn Kurland, Madeline Hunter and Sherrilyn Kenyon. With this novella, Moning treats women to the tale of a contemporary romance author named Jane Sillee who falls in love with a Highlander she has only dreamed of, only to be transported back through time by a magical tapestry and discovers that her dream man, Aedan MacKinnon, has become a weapon of vengeance in the Unseelie court. But if Jane is able to convince Aedan of her love, and win his in return, he will be able to resume his human life.
This re-release comes complete as a hardcover book with art that appropriately represents the sizzle that readers are sure to find beneath the covers … of the book. (Get your dirty minds out of the gutters!) But teasing aside, I think Aedan MacKinnon looks sexy enough to inspire me to dream of him ... Something I'd rather not do in the off chance that I too become entangled in the messy court politics between Seelie and Unseelie and am whisked back to the Medieval era. A life without coffee and refined sugars? Count me out. A book about a heroine who this happens to? Count me in!
But it's not just Jane and Aedan's story that has me popping over to Amazon to pre-order my own copy of the re-release. It's all the other goodies that come in this attractive package. We get a DVD-style slew of extras, which includes a proposal for a book that was never bought. (And I'm not just talking "let's write a book about a dude with some magical powers and the gal who loves him", but a full-on eleven pages of what could have been.) Moning also treats readers to several "deleted scenes" from her 2001 tale Kiss of the Highlander, a delicious tale of love, time travel and a handsome Highland hero who has been asleep for 500 years. This hardcover will also give readers an early look at some of the art from the Fever Moon graphic novel. All of this is in addition to a foreword from the author, a two-page note from her after the story and an afterward!
The new hardcover will also include the extra that I am the most looking forward to, and don't be surprised if you feel the same way once you hear what it is! Are you ready? Are you sure? (You're right, now I'm just teasing you.) So the thing that I can't wait to get my hands on is the alternate opening to Moning's 2002 novel The Dark Highlander aka one of the sexiest paranormal tales I have ever read (and the winner of the 2002 Best Contemporary Paranormal RT Reviewer's Choice Award).
Lucky for us, we don't have too long to wait until Into the Dreaming hits stores on April 24. And if you're like me and simply can't wait until next Tuesday, you can get a glimpse of the re-issued novella here and pre-order Into the Dreaming here.