Brenda Novak Starts A Heatwave
Tue, 07/27/2010 - 2:40pm — admin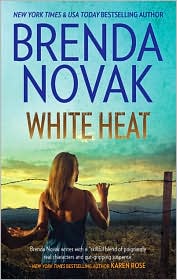 Brenda Novak's new trilogy starter, White Heat, releases today. The novel follows two special operatives working to infiltrate a religious cult deep in the Arizona dessert. It's "page-turning suspense" says RT Reviewer Joyce Morgan, as White Heat demonstrates "how a handful of 'leaders' can manipulate other people to achieve their own ends through a self-made religion." Things are not what they seem in the cult or out. As the story unfolds, readers learn that the two operatives, Rachel and Nate, are partners with a turbulent past.
In a special Author's Message, Novak shares how growing up in Arizona - and the state's "dog days of summer" - inspired her new series. And this excerpt gives fans a feel for that famous burn of White Heat.
And the writing isn't the only thing that's hot about this new series. Tech-savvy Brenda Novak is hosting a party for the series on Twitter on August 4th from 8-10 p.m. (Eastern time). Use the hashtag #bnparty to be part of the conversation!
To learn more about the party, be sure to stop by the author's website to get a special party pack mailed to you. The package will include a special coupon for White Heat and raffle tickets for the party's giveaways, which includes a chance to win an iPad!