Call Me Maybe: Kristen Tracy on Hung Up's Unusual Format & Giveaway!
Wed, 03/19/2014 - 11:33am — admin
What if you fell in love with a person, but the only thing you really knew about them was the sound of their voice? Kristen Tracy tackles this intriguing notion with her latest YA, Hung Up, which hit shelves earlier this month. Told entirely through phone conversations, the book offers an surprising romance through an unexpected format, and we wanted to know more about it! Here's what Kristen had to say — and be sure to stick around at the end for a giveaway.

Midway through writing Hung Up, I felt like I'd taken on an impossible project. A romance? In phone calls? Was I an idiot? Never mind the fact that I'd actually fallen in love with my husband through hours long phone conversations while in a long-distance relationship — he lived in Rhode Island, I was in San Francisco. Every writer knows that doing things in real life is a lot easier than doing things on the page. (I suspect that's why there are so few novels where people Jazzercise, clog or detail their cars.)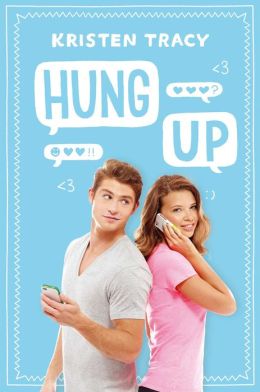 So where did I get the idea to do this? Many years ago, I took a writing class from a fiction writer whose mother was dying. Because she lived in another city, he decided to get a second cell phone that the hospital could call when things looked grim. When he purchased the phone, the store asked if he wanted a new or recycled number. He said he didn't care. They gave him a recycled one. Within hours, while teaching, his new phone rang. He answered it expecting to speak with his mother's nurse. Instead, he got an anxious man hoping to make a drug deal. I was so taken with this idea — that in today's world any two people can meet with a recycled cell number — that I kept turning it over in my mind. Soon, I had Lucy. Not long after that I had James.
But why limit the story only to phone calls? I guess I really liked the idea of exploring two people through this kind of quick back and forth. In life and fiction, I'm drawn to wounded people. I thought giving two teenagers — damaged by experiences they were reluctant to reveal — the chance to establish a friendship and then fall for each other through a series of phone calls would be a rewarding experience for a reader. This seemed like the perfect format to get characters confessing.
This story-telling style had some obstacles, and I certainly didn't get to use every tool in the box. For example, long descriptions felt forced. So it was unavoidable that Lucy and James weren't going to offer much physical description. I did the best I could to build their worlds through their phone calls. I varied the times they talked so readers would get a full picture of how they spent their days. I also had them ask each other questions about their physical appearances, things I believe they would be naturally curious about. But in the end, it's up to the readers to decide whether or not the teens are being totally honest. Another obstacle was a lack of inner thoughts. In this story, since characterization comes through dialogue, readers aren't allowed to know what the characters are really thinking. It's up to the readers to pay close attention to what each character says and to look for inconsistencies that potentially deepen each character's personal story.
People often want advice about writing dialogue. The best answer I've ever heard was from the same writing teacher I mentioned earlier. He said empathetic people write the best dialogue. I think that's true. Listening to people talk and trying to recreate speech, I think, is a bad idea. I had to read a deposition once, and I found real speech clunky and boring. The empathy answer makes the most sense to me, because if you can accurately imagine how another person feels, you stand the best chance of accurately capturing what that person wants to say.
The jacket copy for Hung Up asks, "Can you fall in love with a voice?" I believe that in the right moment, with the right voice, it's absolutely possible.
-Kristen Tracy
***
For a chance to win one of three copies of Hung Up, use the widget below! Open to U.S. readers only. Contest will close next Wednesday.
***

Could you fall in love with a voice? Let us know in the comments! Hung Up is available in stores and online now, so be sure to pick up your copy of this unique and charming read! And for more even more YA authors and books, visit our Everything Young Adult page!