Camy Tang On Wild (Fictional) Wedding Planning
Thu, 08/01/2013 - 1:11pm — admin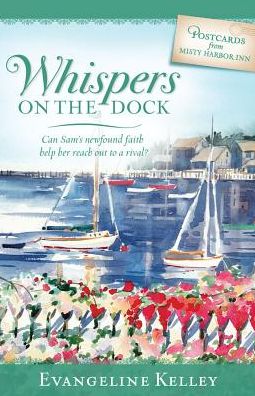 Evangeline Kelley is the pen name for the writing team of Pam Hanson, Patti Berg, Barbara Andrews and Camy Tang. Together they write the Postcards from Misty Harbor Inn series, made up of sweet, contemporary love stories set in beautiful Nantucket. The latest in the series, Whispers on the Dock, releases today and we reached out to Camy Tang to ask her about how she became a romance author and why weddings are her favorite scenes to write!
I have been a romance reader since I was very young. I liked reading Nancy Drew because of her relationship with her boyfriend Ned. I read the entire Little House on the Prairie series, but my favorite was These Happy Golden Years when Almanzo proposes to Laura. I devoured Tamora Pierce's Song of the Lionness series, mostly because I wanted to know about the romance between Alanna and Prince Jonathan. No matter what genre of book I read, I found myself more interested in the love story subplot than the main plot.
Imagine my delight in discovering Harlequin romance novels! My mom subscribed to the reader service, and so I started reading them along with her. I loved feisty, strong heroines and strong, protective heroes.
I have always loved to write, also. I'd tell myself stories while lying in bed at night, and my mom taught me to type when she saw me writing my stories in my notebooks. And the genre I wrote? Romance, naturally. :) My dad was a little disappointed I didn't churn out action-packed science fiction (his favorite genre) but both my parents were proud of me for working on my book, a 500-page (single-spaced) romantic high-fantasy monstrosity. After all, who doesn't like a few sexy, magic-wielding sorceresses and sword slashing princes? Although in my book, the sorceress wielded a sword as well as her pastel-colored fireballs. (Yes, pastel-colored. After all, I was twelve. :)
In my thirties, I became serious about my writing and was fortunate enough to get my contemporary romance series published by Zondervan as well as my romantic suspense novels from Love Inspired Suspense.
Although I have to admit, it's a little frustrating to stop the story at the declaration of love, but before the wedding between the hero and heroine. However, the stories I wrote weren't really conducive to the fifty-page wedding scenes I wanted to do.
I discovered that I am one of those people who loves weddings. Not the craziness or the cranky relatives, but the myriad decisions about colors, food, flowers, food, dresses, music, and did I mention food? However, since I'm not often involved in planning a wedding, when I get to go to one, I settle for enjoying the food. :)
But I got to enjoy all the fun of planning a wedding when writing Whispers on the Dock (book 3 in the Postcards from Misty Harbor Inn series) because I got to plan Caroline's wedding in my book! What was even more fun is that Caroline is a creative spirit, and so her wedding could be much more exotic and expressive than I could have made my own wedding.
Caroline gets some ideas from a (fictional) romance author in the book, too, and that was a ton of fun to write. While I made the character a little over the top, it was fun to imagine myself as the character a little bit. I was able to throw in all my ideas of the most romantic places for honeymoons and the kinds of wild ideas for decorations and dresses that I get when sifting through magazines.
My dream honeymoon would be a castle in Scotland. (Swoon!) So I included that in the story. I also love the dramatic effect of Indian wedding saris, and have Caroline considering that for her wedding gown.
And in addition to all this, of course there's a little friction between hero and heroine, just so they can have a great time making up and then getting married.
What kinds of wild ideas would you have loved to try but didn't dare to for your own wedding (or your children's weddings)?
- Camy Tang
You can pick up a copy of Whispers on the Dock, available now. For more faith-filled romance visit our Everything Inspirational Page.