Celebrating Royal Babies In Aprils Series Romances
Wed, 04/13/2011 - 5:56pm — admin
As we get excited for the upcoming royal nuptials we are putting the carriage before the horse and taking a look at the pregnant royals in this month's series romances!
The Accidental Birthright
By Maisey Yates

Alison Whitman is a career woman. A driven "planner" who likes to have control over every aspect of her life, and when she chooses to have a baby, she thinks she's thought of every eventuality. Until she finds out that, thanks to an IVF clinic mix-up, her baby's father is a prince. Nothing about that follows a plan.

Now Alison is facing an unexpected, unwanted marriage to her baby's father, that comes with a job title she never counted on: Princess. It also means formal dinners rather than family meals around a small table, like she's always dreamed of. And forget all that carefully guarded control. Living her life as a royal means living for the public, for the image presented by the media, rather than having a life on her own terms.

Of course, there are good things too. Like spending time on a private island with a sexy prince.

 
 
 
The Doctor's Royal Love-Child
By Kate Hardy
Melinda Fortescue, my heroine in The Doctor's Royal Love-Child, isn't your conventional royal. She's second in line to the throne in Contarini so, with her big brother established as the heir, she's managed to persuade her parents to let her she train as a vet in England. So she's living in a quiet Cornish village where nobody knows she's a princess, and falls in love with one of the local doctors, Dragan Lovak. But then Melinda's brother is killed, making her the heir to the throne – and that's when the trouble really starts. When Melinda takes over from her father and rules her country, this will make Dragan the queen's consort; but he's a commoner AND comes from a different country, so will he be acceptable to her family or will they expect her to marry someone royal?
Melinda's pregnancy raises a few other issues. First of all, it's unplanned; for most people, this wouldn't be a problem, but for a princess who has plenty of other duties and responsibilities, this can cause all kinds of diplomatic issues. (Who's going to be able to do a state visit in her place, for example?)
Second, she's not married to the father of her baby. So we have the potential heir to the kingdom (i.e. the baby will be next in line to the throne after Melinda) being illegitimate. Will that affect the laws of succession?
Third, because she's royal, the media's going to take a huge interest in her pregnancy. (One of the issues between Dragan and Melinda is that he finds out about things from the newspapers rather than from her – first of all that she's actually a princess, and then that she's expecting his baby!) A first pregnancy is worrying enough for a new mum-to-be, but Melinda's worries are going to be increased because there will be media speculation about her.
On the upside, though, the people of her country will all be rooting for her (because don't we all love a royal baby? I can remember when Prince William was born and how everyone was just thrilled about it).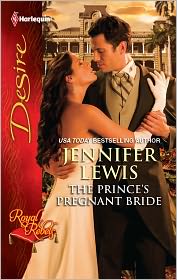 The Prince's Pregnant Bride
By Jennifer Lewis
Lani, the heroine of my new book, The Prince's Pregnant Bride, is surprised to discover that she's pregnant. She's recently widowed, and hiding the guilty secret that her marriage was miserable. When she's suddenly expecting her mother-in-law is overjoyed, and expects her to be over the moon as well, but after fantasies of leaving the formal life at the palace and going back to a normal existence following the death of the king, Lani sees her dreams of freedom evaporate since she's suddenly mother to the royal heir.
Worse yet, she's expected to marry her husband's brother AJ—it's a royal tradition—and when her mother realizes that the heir Lani carries will prevent AJ from assuming the throne, she convinces Lani to have sex with AJ as soon as possible then pretend it's his.
Talk about pressure. If there was no throne involved, Lani might have some control over her own existence. Instead she finds herself at the center of a palace intrigue, weaving herself into an uncomfortable tapestry of duty, commitment and lies that will ultimately explode in her face.
The new royal wedding of Prince William and Kate Middleton is generating much excitement, and I hope they get to enjoy their big day, and a happy and peaceful start to their marriage.
I love being a writer as I can type up a guaranteed happy ending—and the epilogue with the happy royal couple enjoying their children!—if only we could do that in real life.
You can find out what happens in these three stories of royal pregnancies in stores now and stay tuned for more Royal Wedding-related coverage on the RT Daily Blog!