C.H. Admirand On The Healing Power Of Pie - With Giveaway
Wed, 06/05/2013 - 3:25pm — admin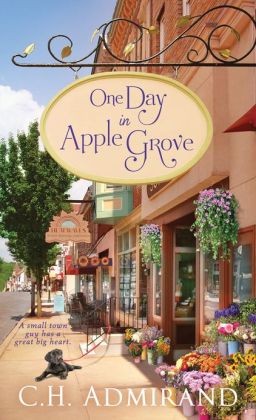 C.H. Admirand's contemporary small town romance series, Apple Grove, continues this month with One Day in Apple Grove. This is a very sweet story set in a small Ohio town about a tomboy who has given up on love until a handsome Navy medic comes into her life. Just like baking is integral to life in the fictional town of Apple Grove, the author also enjoys cooking up something sweet in the kitchen. Today C.H. explains how she makes any place a home with a little fruit, spice and love. And then at the end of the post, she offers readers a chance to win both books in her series. 

So I thought I'd try something new for readers, but not for me, I'm going to talk about the healing powers of my Happy Apple Pie. I've always enjoyed baking and getting my hands into a batch of bread or cookie dough.
There is something healing about working with your hands to create something sweet for the ones you love. The scent of hot apple pie — loaded with cinnamon — my family's favorite spice — has my family drawing a deep breath as they step through the front door, and following their nose all the way to the back of the house and the kitchen.
I used to be a stickler about not eating any pie until they at least ate dinner, but then I remembered my mom's stories about my great-grandmother Mary Elizabeth Daly who had the good sense to fall in love with and marry Fenton Peter Purcell … between them they had thirteen children. I never had the pleasure of meeting them, but my mom always said that "Gammy" would serve everyone dinner and serve herself dessert. She wanted to make sure she got some! She was 4' nothing — a tiny spitfire, first generation Irish American. My great-grandfather came to America from Ireland when he was five.
I was trying to remember just when I started calling my pies "Happy" and our daughter reminded me it was when we were watching the Care Bears … and Sour Sam baked "Crabby-Apple Pies" to make all of the Care Bears unhappy and crabby. It was really long time ago, so I can't remember if Shreeky and Beastly were involved, but they probably were. She's a mom now with a little one of her own — and yes if you've friended me on FB or follow me on Twitter, you've seen pics of our adorable grandbaby — and she's discovered the healing powers of baking for the ones you love. It's good to pass this love on down. 
ANYWAY…from then on I stopped putting slits in the tops of apple pies and started making smiley faces on them. The smile still vented the pies, but I noticed my family just smiling when they saw them. A lot of love goes into whatever I bake, which is why when given the chance to include recipes in my contemporary small town series for Sourcebooks, I jumped at the chance.
Over the years, I've tweaked and perfected a number of recipes that have become my family's favorites, and to be able to share them with readers — in my stories — is amazing! Here's a picture of a "Happy Apple Pie" — the one with the smile … and a Rhubarb Pie … no smile. LOL!  
Thanksgiving at our house two years ago. Everybody got to put in a request for their favorite type of pie. It's just so hard to say no! Pictured left to right:
Happy Apple Pie, Buttered Pecan Pie, Happy Cherry Pie, Happy Blueberry Pie, Sweet Potato Praline Pie and Milch poi — Milk (or custard) Pie in tiny pie tin from my grandmother. 
GIVEAWAY ALERT: We're giving away 3 signed sets of the first two books in C.H. Admirand's Apple Grove series from Sourcebooks: A Wedding in Apple Grove and One Day in Apple Grove! To enter, simply comment on this post telling us your favorite kind of pie. You can also e-mail your answer here with the subject "C.H. Admirand Giveaway," along with your mailing address. Winners will be announced Tuesday, June 11. U.S. mailing addresses only, please.
UPDATE: The winners are Dianne64. Gmapeonyu, Brenda Rumsey.
You can pick up a copy of One Day in Apple Grove, available in stores now! For more small town romance visit our Everything Romance Page.