Chair Dancing Alert! Molly McAdams Shares Her Playlist
Mon, 12/30/2013 - 12:22pm — admin
You aren't the only one rocking out to some tunes at work — authors do it, too! Today for you we have a treat — Molly McAdams's playlist for her latest novella, "Needing Her." Molly even included a small excerpt for each song! The book alternates between Connor and Maci's POVs, so we've specified which excerpt is from which character. Let's get up on the dance floor, folks!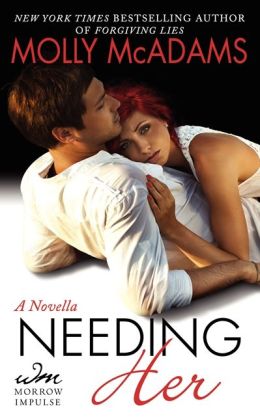 "Bad Girls" – M.I.A.
Connor: "Maci, look at me," I bit out. When she didn't look up, I snapped. Stalking over to her, I grabbed the bottle of clear polish and threw it across the room.
"Connor!"
"I said fucking look at me!"
Her eyes widened and she leaned back into the couch as I crowded over her.
"This isn't funny. I have a job ... a real job, something you would know nothing about, but I can't go to work with a green fucking face, Maci!"
"Blow Me (One Last Kiss)" – P!nk
Connor: "Maci, should you be driving? Do you want me to call you a cab?" She didn't look intoxicated, but she looked pissed ... and if I was being honest with myself, I wasn't ready for her to leave where I could keep an eye on her. But just as soon as she turned to look at me, eyes bigger than I'd ever seen, I realized exactly what I'd done.
"And since when do you give a shit about me, Connor Green?"
"The Phoenix" – Fall Out Boy
Connor: "You're messing with my career! Maci, don't you get that? I'm a detective, people on the streets know me, there are a lot of law enforcement who will see that picture and know it's me!"
She sat up and a soft smile crossed her face briefly before she could hide it and give me a puzzled look. "I don't know what you're talking about."
"Alone Together" – Fall Out Boy
Connor: "What the hell are you doing?"
Her gray eyes widened, and she quickly pulled her pants up as she faced me. "Isn't this what you want? Don't you want me to leave?"
"The Last Time" – Taylor Swift, Gary Lightbody
Maci: "Bullshit, Maci." I opened my mouth, but he stopped me by talking over me. "I know you have to act tough around them. I know you have to act like you don't give a shit about anything around them. But I'm not them, so why do you do this with me?"
I stayed quiet for so long that he started to ask why again before I said anything. "Because you've never cared about me, and all of a sudden you do? It doesn't make sense."
"Move Like U Stole It" – ZZ Ward
Maci: "I wanted to see you."
"Good answer," he whispered just before his mouth came down onto mine. "You look beautiful, by the way, and you took way too fucking long to get back here."
Goose bumps covered my skin, and I smiled against his lips. "Did I?"
"Brokenhearted" – Karmin
Maci: Seven hours, thirty-six games of Minesweeper, and twenty games of solitaire later ... and I was now all cozy in my desk chair as I read from my Kindle. But I was distracted. Other than one more text from Connor saying he was hoping to be able to leave soon, I hadn't talked to him today, and I had a feeling that once he got home he was going to crash. I hated and loved that I was this anxious and worried about not seeing him, when I'd seen him two nights before.
"Heaven Sent" – Hinder
Connor: "Maci, no ... don't cry. Please don't cry." Holding her close, I walked us over to my askew bed, and sat down with her in my lap.
"I thought they were going to find out. They can't find out," she said between strained sobs. "They'll make us stop seeing each other."
"No they won't." I didn't even believe what I was saying.
Kill Of The Night – Gin Wigmore
Maci: I'd spotted them sitting at a table with a pitcher of beer among them as soon as we walked in, and like he could sense I was there, he turned and his eyes went wide when he saw me. I watched as he took me in, and loved when his blue eyes met mine again. They were dark with want. Good.
"Man Like That" – Gin Wigmore
Maci: "Don't fall for it, honey."
I jerked back and looked up at the busty brunette. "Excuse me?"
She pursed her lips and looked back over her shoulder. "Connor Green." She said his name like he was a legend or something. "I get it, I swear I do ... but don't fall for it." "Fall for what, exactly?"
"You think I don't know you two were just in the bathroom together? This is just the start for him. He'll call you 'sweetheart' and say all the right things to get in your pants."
I stopped breathing at "sweetheart."
"Clarity" – Zedd, Foxes
Maci: Connor had started walking out of my room, but stopped, and turned back toward me. Quickly closing the distance between us, he grabbed me and crushed his mouth to mine. I pushed against his chest, but he didn't move away.
His lips only left mine long enough to say, "I'm not letting you do this to us."
"Wasting All These Tears" – Cassadee Pope
Connor: My body was shaking, and I tried to focus on anything other than the way her expression was breaking my heart. I'll destroy her. I'll ruin her. I continued to chant those words and focused on the fact that I could never be the type of man that she needed.
Swallowing past the tightness in my throat, I scoffed. Scoffing was good. It made me sound like that much more of an asshole.
"Still Into You" – Paramore
Connor: "I'm sorry for ever making you cry," I whispered, "and I'm sorry for taking so damn long to realize what you mean to me. I swear to you I'll spend the next seventy years making up for all the time with you I've lost."
"Seventy?" she asked, her voice thick with emotion even though she was smiling. "You think we'll last that long?"
"I know we will," I vowed.
"Needing Her" is available at your favorite etailer now! And for more New Adult stories, visit our Everything Young Adult page.