Charting Gena Showalter's Series
Fri, 02/22/2013 - 12:27pm — admin
While I haven't read everything that Gena Showalter has written, I will admit to being a straight up fanatic for her Lords of the Underworld series. (In this video you can see me giving the author a complete rundown of all of her heroines, like she doesn't know who everyone is.)
These paranormal books are addictive bonbons of joy. They feature dark, brooding heroes who are punished for their sins by being cursed with literal demons, a big bad who will kill every last one of the Lords, even if it means destroying humanity, and some kick ass heroines of the human/harpy/angel/goddess varieties.
There is always a lot going on in a LotU story, and after reading all nine books, I have noticed some distinct components that make up each title. Here is a handy pie chart breaking down what you will find in a Lords of the Underworld book:
As you can see, there are three distinct elements in each of these stories. First is the fun, lighthearted banter between the characters. (Anyone who doesn't at least crack a smile at all of the guy bonding disguised as not-so-subtle insults exchanged by the Lords should get out of the book reading business.)
Not surprising for romance novels, these books deliver some major loving. (No, not that kind of loving — well some of that loving — but mostly the sweet I-can't-exist-without-you romance that makes us swoon.) Who knew that men forced to share their bodies with a demon could feel so deeply for their mates?
And the third aspect of the books is the raw violence that erupts when the Lords face their enemies. Be warned: these fights are graphic, so get ready for some head lopping and blood splattering coming your way.
Haven't read these books yet? Follow my advice and click here for Amazon's e-bundle of the first four books in the series which includes the most romantic of the bunch, The Darkest Night and my personal favorite The Darkest Kiss, which has the most awesome/annoying heroine in the history of fictional semi-goddesses who are obsessed with reality television.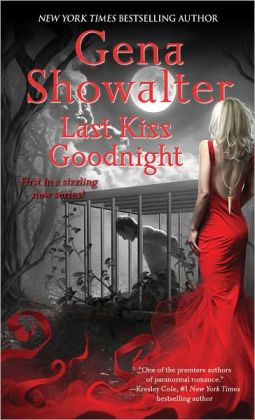 Having tore through each of the available Lords stories and armed with a strong stomach, I recently picked up Last Kiss Goodnight, book one in Showalter's newest series, Otherworld Assassins. As the series name implies, these stories are about undercover alien agents. Whether they are working on the side of good or evil is open to interpretation, but when they are called on by Michael Black, their de facto leader, these government hitmen — John No Name, Rakan, Solo and Blue — get the job done.
Despite his nickname, Last Kiss Goodnight is all about Solo finding his mate in a most unusual place. Captured by an enemy when their compound is infiltrated and sold to the highest bidder, Solo becomes a sideshow attraction in Cirque de Monstres, the Circus of Fiends. The "fiends" captor, Vika, is in charge of feeding and caring for the creatures, but she is actually a prisoner herself. Forced into this illegal life by her abusive father, Vika wants nothing more than to free the aliens, but she cannot show kindness. This would be considered a weakness and she would be punished severely. (Vika's last rebellion resulted in her being beaten until she went deaf.)
Solo and Vika's relationship starts out contentiously, but understanding soon turns to trust which turns to warm and fuzzy feelings which leads to some alone time and … well, you get the picture.
I have charted the elements of Last Kiss Goodnight here:
As you can see, much of the book sets up the world that the characters inhabit. This is necessary because while the Lords live in our world (granted, one with mythological creatures), the OA is a science fiction series that contains alternate dimensions that are traversed using unpredictable solar flares.
Also noticeable is the lack of actual fighting in the story. Instead Solo and the other aliens spend a lot of time scheming to get free. The abuse that is on the page is horrific, but not because it is bloody, but just the opposite. Much of the torture is psychological in nature, making it all the more dark and scary. 
Something else that you might notice is missing from the Last Kiss Goodnight's chart is quirky banter. While Showalter's signature fast-paced dialogue is still very much in evidence (no easy feat considering she is working with a heroine who cannot hear) there is less living and loving a a whole lot more surviving in this book. The lost, lonely characters have no idea if they will live to see the next day.
It is going to be interesting to see where the next several books in the series will take us. At the beginning of Last Kiss Goodnight, Solo's teammates are also taken prisoner and their whereabouts are unknown. We've already been to the circus, so the next few books could be set anywhere. (I'm voting for some interstellar traveling, because who doesn't love spaceships?!) However, despite my best guess, there is absolutely no way to know where we will find Michael, Blue, Rakan and John because Gena's stories are twisty things that cannot be predicted. But as much as I am looking forward to the Otherworlders' adventures, I will admit that I am even more anxious for the next Lords of the Underworld book. Kane, the holder of the demon Disaster, will be on shelves with his fae heroine this summer in The Darkest Craving.
Do you follow a Gena Showalter's series? Tell us which one is your favorite in the comments below. And for more otherworldly romance, check out our Everything Paranormal/Urban Fantasy page.