Chatting Between Classes With Author Tessa Gratton
Thu, 10/20/2011 - 11:52am — admin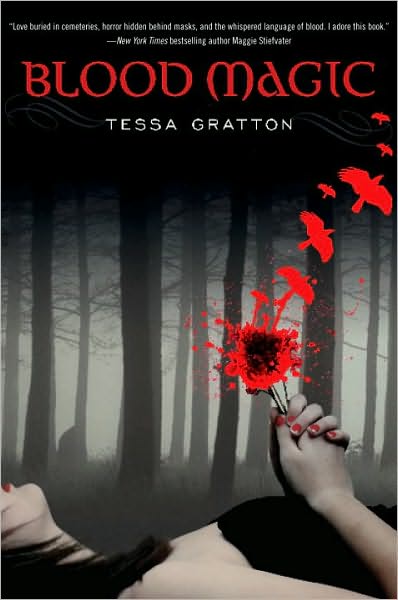 Tessa Gratton's Blood Magic had RT's Senator raving about the way that the author wove real-life issues into a captivating paranormal plot. Heroine Silla is still mourning her beloved father when she receives a book written in his handwriting full of a dark and mysterious magic. To get an even better look at this YA author's latest novel, we set up a mini-interview — a quick chat between classes, if you will — with RT's Senator and Tessa Gratton.

***
Without using the title words, how would you describe Blood Magic in five words or less?
Scary, delicious, gothic, sweet, and sad.
Blood Magic has such a vibrant and exhilarating plot. What was your inspiration for the story?
Thank you! I've always loved magic—I wanted to be a wizard when I was little—and so I've spent years researching folklore and magical practices around the world, not to mention reading as much fantasy as I can. Blood Magic came from me bringing as much of it together as possible to imagine what magic might look like if it was real, and being practiced in a rural American context. If I believed in magic, it would be this magic. Difficult and requiring sacrifice, but based in symbol and willpower. The story to go along with that magical system needed to be mysterious and romantic, and that's how I built the plot. The magic itself was the first character.
Silla cherishes her father's book once she receives it. Is there an item or place you hold dear? Why?
The most cherished item in my home is a 20-year-old copy of Beauty by Robin McKinley. I bought it from my favorite indie bookstore when I was 9-years-old, and it was the first book I couldn't escape. It taught me what I wanted to be as a storyteller, though I didn't realize that at the time, made me want to be as brave as Beauty herself, and opened my eyes to the new magic to be found in old fairy tales and classic love stories. I keep that copy in plastic, because by the time I was 13 the cover was attached only with scotch tape, and many of the words are smeared from my fingers.
Both Silla and Nick have a cemetery as their backyard (spooky)! Did you have to visit a few graves while writing? Did you have any supernatural encounters?
I've been a fan of cemeteries for ages! The solemnity, the quiet beauty, the shadows. I do feel as though the weight of history lives there, and any time I step inside the gates, that weight sits in my heart for a while. The most poignant encounters I've had in a cemetery are the marks people still living, who love the dead, and cling to those memories. Plastic flowers and tire-tracks, and especially at the anonymous graves for unknown soldiers or the nameless headstones, those feel like ghosts to me.
Blood Magic is the first book of the Blood Journals series. Can we expect anything else from the fabulous Tessa Gratton soon?
There's a companion novel coming in 2012 called The Blood Keeper. It takes place about 5 years after Blood Magic, dealing with many of the same characters and fall-out from what Silla and Nick went through, but with brand new teen heroes. And after that — I've got some projects I'm incredibly excited about, full of kissing and road-trips and, possibly, trolls.
To learn more about Blood Magic from Tessa you can check out RT's Senator's blog or pick up your own copy of the series starter, which is available in stores now. And for more genre coverage be sure to check out our Everything Young Adult Page!