Cherry Adair On Hush - With Giveaway!
Tue, 04/26/2011 - 10:23am — admin
Bestselling author Cherry Adair embarks on a new romantic suspense series with this week's Hush. Today we chat with the author about an important aspect of the series and then don't miss your chance to win a copy of this new romantic suspense tale at the end of the blog post.
Recently I learned the difference between a tourist and a traveler. 
A traveler wants to immerse himself in the culture. He wants to drink something smelly and impossible to identify out of a <shudder> hairy goat skin, and sleep hanging in a harness off the edge a mountaintop. He doesn't need hot or cold running water, a cell phone, or pretty postcards to remind himself of why he was ever there.
A tourist wants a nice clean room, her own bathroom, and room service that delivers chocolate dessert after midnight. She likes hot and cold running waiters, an artfully arranged fruit plate, and scented soap. If possible, she'd like her sheets turned down with a mint on the pillow.
Acadia Gray is the tourist. Having won the Kansas lottery, she splurges and takes a group of girlfriends on a once-in-lifetime vacation – her friends out vote her five to one on a trip to see Angel Falls in Venezuela. Being the fair, democratic type, she gives up her dream of a a nice luxury Caribbean resort with half naked waiters and fruity umbrella drinks so she won't have to travel alone.
Zakary Stark is the traveler. A multi-gazillionaire (because really, why not?!) Zak owns a successful search engine company, but loves the thrill of extreme sports. He and his brother go to Venezuela to jump Angel Falls.
A brief meeting between tourist and traveler results in an incendiary one night stand. He wakes up anticipating- well, yes, wild monkey sex one more time – and his BASE jump later that day. Acadia wakes up wondering why he didn't do what a one-night-stand was supposed to do – like leave while she was satiated and sleeping. 
Waking up together the Morning After proves to be a lot more than inconvenient for both of them when the first thing they see is an automatic weapon pointed at their heads.
Other exciting, thrilling heart-pounding stuff happens. (No, I'm not telling you more.) Let me just give you this hint: There's kidnapping, running, chasing, shooting, falling down, wild monkey sex, running, explosions, shooting, kissing- You get the picture?
The tourist and the traveler take a wild trip through the jungle rain forest and we see what happens to them through very different lenses. Titillating, exciting. Dangerous. 
I know which sort of vacationer I am, but my fruity umbrella drink has just arrived via my cabana boy and I must go. The question remains, a tourist or a traveler, which one are you?
Please come and tell me on Facebook or Twitter! For a sneak peek of Hush- see the book trailer. For a slide show of scenes from Hush please visit my website. And if you would like a Hush bookmark and/or a signed bookplate, send a SASE to Cherry's bookmarks, P.O. Box 8591, Covington, WA 98042 and I'll send them to you fifth-with (faster than forthwith <g>).
- Cherry Adair
You can pick up your own copy of Hush in stores now or enter to win your own copy below!
GIVEAWAY ALERT: Three lucky winners will receive their own copies of Hush. To enter please leave a comment about the place you'd love to travel to, or the ideal adventure you'd love to take. Or you can email your comment here with your US mailing address and the subject line, "Cherry Adair's Hush Giveaway." This contest is open to US Residents only. Winners will be announced on May 9th.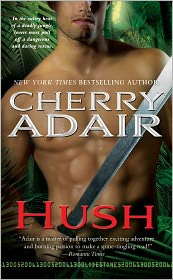 BLOG UPDATE 5/10/2011: And the winners are ... maryannlanders, LEW and Stephanie Stanton