Choose Margaret Mallory's Hottest Highlander - With Giveaway!
Tue, 02/26/2013 - 11:33am — admin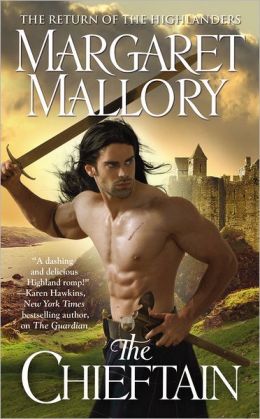 Happy release day to Margaret Mallory! The Chieftain concludes the author's Return of the Highlanders quartet, so now seems like the perfect time to answer the burning question: Which Highlander is the hottest?
But this isn't just about a pretty face, lasses. We need to consider the qualities that make each of these Scots a hero:
The Guardian – Ian comes home from war to find his clan in peril. To save his kin, he must right the wrongs from his past…and claim the bride he's long resisted. Now Ian wants a second chance with Sileas — and he won't take no for an answer.
The Sinner – Alex is known for his skill as a warrior, his prowess with women, and his vow to never take a wife. But his chieftain has asked him to make the ultimate sacrifice: wed Glynis MacNeil, a lass famed throughout the Highlands for her exquisite beauty — and defiant ways. 
The Warrior - Duncan MacDonald has never escaped the memory of the true love he left behind. Deemed unworthy of a chieftain's daughter, Duncan abandoned the lovely Moira to prove his worth in battle. Now, when called upon to rescue her from a rival clan, one thing is certain: Moira's pull on his heart is stronger than ever.
The Chieftain - Connor, chieftain of the MacDonalds, holds the fate of his people in his hands. Duty determines whom he will fight, trust, even marry. Seeking guidance, Connor turns to Ilysa, a young lass with the gift of foresight, who reveals an approaching danger — and a passion that burns only for him.
So who is the best hero? With brains, brawn, and noble deeds … all wrapped in a kilt … who do you think is the hottest Highlander? Tell us your pick and be entered to win one of 20 copies of The Chieftain. 
GIVEAWAY ALERT: Tell us which one of Mallory's Scots is the hottest in the comments below and you might win a copy of Margaret Mallory's The Chieftain. You can also e-mail your answer, along with your mailing address, here with the subject line "Margaret Mallory Giveaway." U.S. residents only, please. Winners will be announced on March 5.
BLOG UPDATE: The winners are Stephine Brentson, Arizona Dutt, B.J. Maxwell, Cathy MacRae, Marcy Shuler, AB, Sheryl N, JaniceMarie, Kristina Haecker, Susan Smoaks, SuzyK, SharDan01, T. Newbury, MsTLCmn, Canbro, donna ann, Virginia Campbell, Stephani, Ora, Dale H
For more historical love stories, visit our Everything Romance Page.