Co-Author Confessions: What It Was Really Like To Write Talk Dirty To Me
Wed, 07/21/2010 - 10:05am — admin
Co-authors Inez Kelley and Ginny Glass Struggle with "who plays the man" in their new erotic romance Talk Dirty To Me.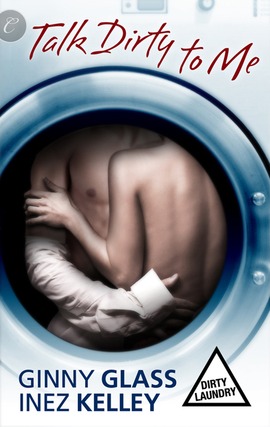 Ginny: Gimme Talk Dirty To Me back, I want Jarod.
Inez: Wait your turn, I have the lube out and he is getting duuuuuuurdy.
Ginny:  It is my turn! Send him to me and go to bed. It's like what, 2 AM there? Selfish cow.
Inez: Pffft …. btw, Jarod is now allergic to cats.

Ginny:  Okay, that works. I'm switching to Nora for the next section. I edited the last five pages, loved the hand holding bit, very sweet. Also I gave them their first kiss.

Inez: Saw that, nice job on the tenderness but I interrupted it * snicker * You want to write the next phone call?

Ginny:  HELL YEAH! Have you sent him back yet?

Inez: I'm almost done this bit. Keep your shirt on.

Ginny:  Now where's the fun in that?

Inez: This was exactly how we wrote Talk Dirty To Me. Back and forth, from east coast mountains to west coast desert, exchanging ideas and words like lovers swapping spit. I wrote during the day since I am now a stay at home mom. Ginny wrote at night when she got off work. We would leave each other notes in the story like [ADD SOMETHING SEXY HERE] or [What am I trying to say here? Fix this] and we did. We saved each new addition under a new title, for example: TDTM - 1st SMUT, TDTM - PEEN!, TDTM - Heartache). It was freaky how easy it was. Ginny did have one slight problem crop up, however. She comes up with these amazingly hot scenarios then she couldn't use the specific words to describe it. You know, the body parts? So I came up with a little chant I would throw at her via IM when she was writing a steamy moment. "Do it! Go for it! FEEL THE POWER OF THE *insert euphemism for feline here*. She adjusted and, Wowser, can she scorch some verbs in detail now!

Ginny: It was freaky how easy it was. Also freaky, how two women who'd never even spoken on the phone until our co-sale to Carina could churn out something so quickly! The idea for Talk Dirty To Me was brainstormed in a flurry and written in a hurry. It only took us a few weeks to get the rough draft completed. True, Inez helped me through the four (and five!) letter moments and my, how steamy the end result! Many nights were spent chugging coffee and hoping I could get by the next day on a few hours of sleep. Nora and Jarod were so much fun to write (and Inez and I wrote so well together) that I would race home from my day job, excited to tackle more pages!

Inez: When Carina offered the contract, Ginny and I finally spoke by phone for like, three minutes. She was squealing in the bathroom at her office and I was fending off starving children. Things only got wackier from there. Edits were a breeze. The wonderful Deborah Nemeth would send them to us both. I would do some during the day and then send my copy to Ginny. Ginny reviewed them both, made her corrections and additions and then sent them back to Debra and CC'd me. Bless [the computer program] Track Changes' heart for keeping track of it all but it worked!

Ginny: We'd critiqued each others' work before and were comfortable with each others' style, knew what each others' strengths and weaknesses were. We traded that manuscript back and forth like greased lightning. The prose flowed and each new idea built to the next — the story got smarter, smoother and toe-curlingly hotter with each fresh read and every new addition.
It didn't matter our differences in time zone or lifestyle or hell, height (though don't let Inez tell you she's frumpy — she's a giant sex kitten in a small package!) — all that mattered was our shared passion for a great storyline and our commitment to each other; we wouldn't let a great premise go unwritten. We trusted each other and it shows.

Inez: Sex-kitten? Hairball maybe. Ask her whose idea it was to have Jarod send Nora a vibrator. It wasn't me! Wish it had been though because that part nearly sizzles off the page! Writing sex with a stranger might seem odd but that is nearly the plot for our story. Jarod hides behind his voice, becomes a faceless stranger to Nora and talks dirty to her, getting her to open up and reveal the true her before he even kisses her in real life. Ginny and I, like Nora and Jarod, found we are a perfect match.

Ginny: And maybe I was a little bit of a hero-hog with this manuscript, but wait until you read this book! The hero is half brainiac, half butterscotch. And as far as who plays the man? Naughty Professor Jarod Reed all the way!
Talk Dirty To Me is available now at the Carina Press website. It is the second in Carina Press's Dirty Laundry erotic novella series. Book one, Coin Operated by Ginny Glass debuted on June 7th and book three, Coming Clean by Inez Kelley is scheduled for release August 30th. Still craving more? Visit the authors' websites at www.InezKelley.com and www.Ginny-Glass.com.