Colleen Coble Believes Love Is A Choice
Fri, 04/16/2010 - 4:30am — admin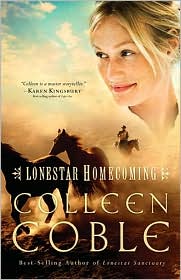 Inspirational author Colleen Coble on her newest release Lonestar Homecoming
People are often interested in how novel ideas are formed. It's a mysterious process even for authors! I've gotten ideas from documentaries, magazine articles and newspaper stories, but Lonestar Homecoming was unique in the way the story came to me. I was dozing in the airplane on the way home from seeing our daughter. I came awake with the picture of a young woman running away in a bedraggled wedding dress.  She had a small daughter by the hand, and they were rushing to catch a train. I began to wonder who was chasing her and what kind of man would come alongside her to help. I so admire soldiers (I married one!) and my nephew just got back from the Middle East. I could see a man like him stepping in to save Gracie.
Lately, I've been taken with the idea of arranged marriages, too. Mostly because too many people see love as a feeling when it's really an action. We can choose to love even when we don't feel the emotion. I've been married to my wonderful husband for 38 years but for any couple there are times when emotion waxes and wanes. What sustains a long relationship is commitment. So it's been fun for me to explore modern arranged marriage in Lonestar Homecoming. Gracie and Michael like one another from the start, but love is a decision they come to and then eventually the emotion bonds them as well.
I hope you enjoy Gracie's story! I love to hear from readers so email me and let me know what you think.