Confessions of Christy Reece, Author And Romance Lover
Fri, 04/16/2010 - 12:18pm — admin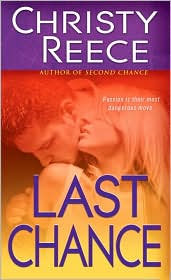 Romantic Suspense author Christy Reece on her Last Chance Rescue series and what let up Last Chance, an RT BOOK REVIEWS Top Pick for May.
The heart of any romance, no matter the sub-genre, is romance. A happy-ever-after, happy-ending, sigh-worthy, close-the-book-with-a-smile-on-my-face-and-a-joyous-tear-in-my-eye, romance. It's what I love to read and what I love to write. I've been reading romances since I was in my early teens and have every intention of reading them for the rest of my life. Romances are my drug of choice and they make me happy.

When I started writing Rescue Me, the first book in the Last Chance Rescue series, I started only with a romance in mind. For months, I'd had a story idea about a young woman who makes a terrible mistake in judgment and suffers horrific consequences. I knew she vanished without a trace and years later, we find her in Paris working for an organization called Last Chance Rescue. I wanted this young woman to have a happy-ending, like any good romance. The Last Chance Rescue organization was a mystery to me. I knew almost nothing about its purpose or employees. As I wrote that first book, the organization began to develop and became a character of its own.

While each Last Chance Rescue story involves the mystery or suspense of rescuing victims and bringing villains to justice, at the heart of each book is a love story, a romance. Two people brought together, sometimes under dire circumstances, who find that one perfect love that will last a lifetime.
Last Chance, the last book in this year's trilogy, and the sixth book in the Last Chance Rescue series, will be released on April 27th. This story features LCR operative McKenna Sloan and a wealthy British businessman named Lucas Kane.

McKenna first appeared in No Chance—a mysterious woman referred to as Ghost. The instant she's mentioned, I wanted to know more about her. The more I learned, the more she intrigued me. Why would a woman willingly put herself through some of the things she did to save others? What happened in her past to turn her into the lonely, damaged and selfless woman I saw in No Chance?

McKenna makes a brief appearance in Second Chance and I learned that she doesn't like to be close to people, especially men. Why? As I began to write Last Chance and McKenna's story unfolded, I finally learned what she was dealing with … had been dealing with for over eight years. A past of horrific abuse, an unending sorrow she'll never forget or forgive herself for and the terrifying knowledge that a sadistic madman is out there somewhere just waiting to pounce.
After discovering everything she'd been through, I realized the hero of Last Chance would have to be a very unique man. Not necessarily a Last Chance Rescue operative, but someone just as heroic and strong. He needed to be someone McKenna would have an instant connection to, who would understand her inside and out. A man who would be her champion. And then I met Lucas Kane.
A handsome, sexy British billionaire, Lucas Kane has secrets of his own and a specific set of rare skills very few people know about. Though he no longer uses these skills, when he learns about McKenna's past, they become useful once more.

Last Chance is full of secrets, twists, turns and a horrible, evil villain, but at its heart, it's a tender, sweet romance. A deep, abiding love blossoms between two people who never would have met under normal circumstances. When they do meet, both recognize a connection—a bond nothing can break. I enjoyed watching Lucas and McKenna fall in love. I loved the wonder they felt as they slowly gave into their feelings. I loved the sheer romance of their relationship.

At the core of each romance I read or write, I want a passionate, beautiful story about two people falling in love and finding that perfect happiness with each other. I love romance for the romantic story. I want to close a book or type 'The End' with a sigh of contentment and a smile on my face. Happy endings just make me happy. It's as simple and uncomplicated as that.

What about you? Why do you read romance? What's the most romantic book you've ever read?