Converting to the Church of Søren: How I Fell In Love With Tiffany Reisz's Controversial Original Sinners Character
Tue, 07/30/2013 - 11:07am — admin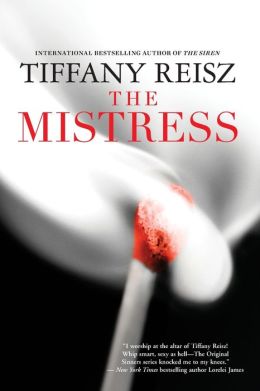 With the release of The Mistress, Tiffany Reisz completes the story arc of the four books she calls "The Red Years," wrapping up the story of Dominatrix/erotica author Nora Sutherlin and her merry band of kinksters.
It's fairly obvious that most of us here at RT are big fans of the series; once editors and reviewers have read the ARC, emails and instant messages start flying with loads of shouty caps, emoticons, and flailing GIFs. We've written about the books, what we thought was coming, let Ms. Reisz talk to us about BDSM, and generally raved about the series. Reisz even won the 2012 RT Reviewers' Choice Award for Best Erotic Romance.
What we haven't done, however, is talk about one of the most polarizing figures in erotic fiction: Søren. 
Make of his chosen profession what you will, above and beyond that potential conflict of interest (and this lapsed cradle Catholic chose to point to The Thorn Birds for her "shrug and carry on" moment), Søren is a character I'm willing to bet a lot of readers love to hate or hate to love, but I don't think he's a character that has may readers saying "meh."
After my first encounter with Søren in The Siren, I coined the Twitter hashtag TeamSørenDIAF, and I was not kidding about wanting him to die in that metaphorical fire. Reisz has compared him to the God of the Old Testament, and I'm generally not on board with a God who's willing to flood the entire world to get things back to the way he wants them. He was controlling. He was invasive. And I could not for the life of me see why anyone, much less a strong person like Nora, would be in love with him.
Then came The Angel. And while I swooned over the central love story, I found my cold, black, Søren-hating hear thawing just a tiny bit. The abuse issue in the Catholic church is one that plagued my (former) diocese and Søren's reaction to the events that involved this very prominent issue made me hate him a little bit less.
The Prince, then, was a tough read, and I know I can't be the only one who had to read it more than once to get all my feels in order. You get some young, pre-Nora Søren here, and if you thought he was tough to wrap your head around in the first two books, seeing what made Søren Søren is enough to screw with even the most opinionated head. And when you get to the infamous "100 things" scene? Well, let's just say I threw my book, cursed Ms. Reisz on Twitter, read some more, and threw it again. How could everything I believed about a character be pulled out from under me?
Then with great trepidation, I started reading The Mistress. First, we've already recently seen two purported series enders (Charlaine Harris' Dead Ever After and Sylvia Day's Entwined in You) release to huge fan debates. It's hard to please everyone with endings. On top of those concerns, this book was supposed to cement my overall feelings about Søren. Which was he? The Old Testament angry God or the New Testament loving God?
I'm sure it shocked a lot of my friends to hear my Twitter confession that by the end of The Mistress I loved Søren. Not because he was any sort of swoon-worthy romance hero, but because in those four books, he was revealed to be one of the most complex and fascinating characters I've ever read. He's not perfect or even someone you'd really want to be involved with. Yet, at the core, he's intelligent, good-hearted, consistent in his moral compass (even if it doesn't agree with yours), and never, ever, boring.
So Original Sinners fans, are you Team Søren or Team Wes? Tell us in the comments. You can pick up a copy of The Mistress, available now, and visit our Everything Erotica Page for more kinky content.