Cooking The Books: Drool-Worthy Cookbooks Inspired by Popular Fiction
Tue, 10/16/2012 - 11:24am — admin
We've seen a trend lately of popular fiction books making the jump from the library to the kitchen. And it's about time! We've been tantalized by the scrumptious southern food that the characters in True Blood enjoy and we have yearned to sample the magical food served up in the halls of Hogwarts. With new cookbooks hitting the stands, all the recipes we craved are now right at our fingertips and bubbling away on our stoves. Today we highlight some of our favorites for your cooking pleasure, and add a few more suggestions about recreating your not-so-fictional meal the right way:
***
PUT SOME SOUTH IN YOUR MOUTH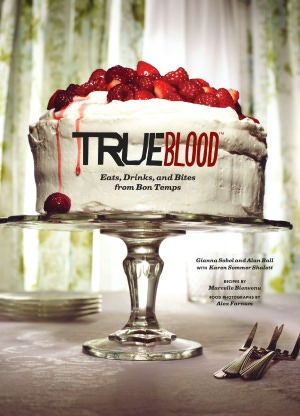 Laissez les bons temps rouler (let the good times roll) as you whip up southern delicacies from True Blood: Eats, Drinks and Bites from Bon Temps. Inspired by HBO's True Blood, which is based on Charlaine Harris' The Southern Vampire Mysteries series, you'll feel like you've just stepped into the world of Sookie Stackhouse and all her paranormal friends. And while some of those friends may bite, these recipes surely won't. Recreate menus from famous Bon Temps hotspots such as Fangtasia and Merlotte's Bar and Grill. Now you'll get the chance to sink your teeth into Lafayette's Brujo Burger and wash it down with Mama's Whiskey Sour, one of Tara's specialties!
If the cookbook leaves you jonesing for a more authentic Bon Temps experience, crack open your own bottle of Tru Blood. While this orange soda may not be a "true" replication of the synthetic blood that keeps vamps fed, the bottle is pretty damn cute. And it is blood orange, so there's that. Thirsty? You can get your supply of Tru Blood beverage here.
And why not serve up the food as Sookie would, in a green Merlotte's Bar and Grill apron? You don't have to be telepathic to know that this would be a cool costume for Halloween or for everyday cooking. We found this Sookie apron here.
Dab on a bit of the perfume Forsaken — which you most definitely won't be — to complete the Bon Temps feel. This sensuous scent was inspired by the series, and it contains notes of blood orange (or course!), night blooming jasmine and ebony wood. Use sparingly though. It just may bring all the vamps and weres to your yard — not that there's anything wrong with that. Sookie seems to enjoy it. You can grab this scent for yourself here.
***
FOOD FIT FOR AN ELF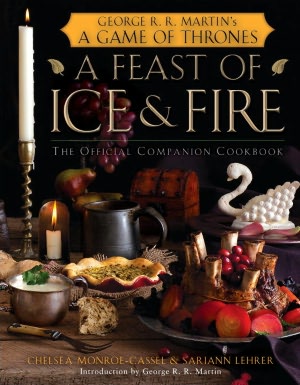 More of a science fiction fan? Then you'll flip over A Feast of Ice and Fire: The Official Game of Thrones Companion Cookbook. You should have plenty of time to perfect some of these recipes before season 3 of Game of Thrones premieres next March on HBO, and your viewing parties will be the talk of all your friends. Not only does this book instruct you on how to set up the perfect medieval kitchen, but it contains a foreword written by author George R.R. Martin himself.  Squee! Your Westeros-inspired meal may contain stunning dishes such as Rack of Lamb and Herbs, Pease Porridge (hot or cold, you chose!), and the ever-delectable Honey-Spiced Locusts (or Wintercakes if you're not feeling the locusts).
Now, if you're going to throw the most-awesomeist Game of Thrones viewing party, then you need to get the party started on the right foot. Why not send your guests invites that will leave a more permanent impression than the standard evite that can be easily deleted? Wow them with handmade invitations decked out with decorative embellishments like wax seals! Might as well go all out, especially if you're adventurous enough to make that locust dish. Learn how to make invitations like the one above there here.
If you get caught up making seals and practicing your calligraphy and don't really have the time to stress over cooking, there is a shortcut. How often have your friends eaten a medieval meal anyway? Toss a hunk of beef in William-Sonoma's Belgian Beer & Onion Braising Sauce, and slow cook your way to fabulousness. It's quick and simple and it's based on a 14-century Flemish recipes.  Win-win! Your friends will think they've died and gone to Medieval Times chain.
Serve up your meal on ceramic earthenware dishes like those sold here. It'll add a touch of class and style that are reminiscent of the so-called dark ages. As an added bonus, they'll look great on a table setting whether you're serving up olden-type food or something modern.
***
SATISFY THOSE HUNGER PANGS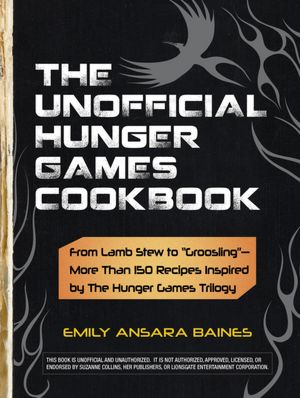 Did you read Suzanne Collins' Hunger Games trilogy wondering what it would be like to eat a home-cooked meal that Katniss would have enjoyed? Did the delicacies served in the Capitol intrigue you? Then grab a copy of The Unofficial Hunger Games Cookbook: From Lamb Stew to "Groosling." There are more than 150 recipes that will delight your taste buds with the flavors of Panem. From Katniss's Favorite Lamb Stew with Dried Plums to a French Bread recipe from Mellark's Bakery and a Capitol-Grade Dark Chocolate Cake, you'll have all the makings of a feast!
With all the yummy The Hunger Games-inspired food you'll be making, you'll definitely have leftovers that would make a perfect lunch. Tote them to work or school in style with lunch box inspired by the movie. This lunch box and its matching thermos (found here) show your passion for the cause of freedom from tyranny with a blazing mockingjay — like the pin worn by Katniss herself!
Really want to be authentic? Set yourself up with a Texsport Rotisserie & Spit Grill. After hunting down your food at the supermarket, grill it up like Katniss and Gale would have after snaring some prey out in the wild. You can buy the one above here.
And while we can't advocate going out and shooting down your own meal (unless you have the skills), you can perk up your outfit with some jewelry that is reminiscent of hunting and the series. Why not don this cute arrow necklace to get in touch with your inner-Katniss?
***
CAN'T GET ENOUGH BUTTERBEER
The end of the J.K. Rowling's Harry Potter series left more than just a casual vacancy in our hearts, but there's only so many times we can visit The Wizarding World of Harry Potter in Orlando. To get the experience closer to home, we turn to The Unofficial Harry Potter Cookbook: From Cauldron Cakes to Knickerbocker Glory. It contains recipes that any muggle will enjoy, with Treacle Tart and Pumpkin Pasties topping the list!
Unfortunately, this book doesn't contain the recipe for scrumdiddlyumptious butterbeer. Good thing we can order it over the 'net. According to its label, Flying Cauldron Butterscotch Beer has been produced in Hogsbreath, England since 1374, and it is the drink of choice for wizards. It comes in a 6-pack that all ages can enjoy, so drink up!
Need help in the kitchen? Cook up some good fun and tasty treats with the help of this magical illuminating wand. Ok, we kid. This wand probably doesn't have any magical powers, but it won't hurt to try the expelliarmus spell when one of your kids tries to walk off with the last bottle of butterbeer.
Not ready to try a vomit-flavored Bertie Botts jelly bean? Keep it simple and make your own chocolate frogs with this handy-dandy mold. They'll make a perfect addition to any Harry Potter themed party, and we bet that they will practically hop right off the plate!
Did Fannie Flagg inspire you to try fried green tomatoes? Does the mere mention of Willy Wonka have you reaching for your favorite chocolate? Let us know if you've ever been inspired by a book to whip up something delicious in the comment section below.