Cooking with Jill Shalvis: Her Easy-Peasy Cream Cheese Danish Recipe!
Mon, 09/23/2013 - 10:42am — admin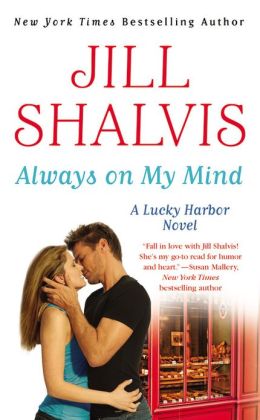 There's a chill in the air today at the RT offices, and that has us in the mood for sweets. (To be fair, we are almost always in the mood for sweets.) But today we've got a new recipe to try from Jill Shalvis, whose RT Top Pick! Always On My Mind, starring pastry chef heroine Leah, debuts on book shelves today. Reviewer Sabrina Cooper called the story "a sexy and tangled story that will put readers on the edge of their seats," and this recipe just makes things sweeter! Take it away, Jill!
In Always on my Mind, my heroine is a pastry chef, who comes home to Lucky Harbor after failing very publicly on a cooking show. There she takes over running her grandma's bakery. For Leah, cooking is a breeze, it's life that is hard.
It's the opposite for me. I am not a pastry chef, not by  any stretch of the imagination. However, I make a mouth-watering, "Easy-Peasy Cream Cheese Danish," that is out of this world.
Really.
Ingredients:
2 (10 oz.) refrigerated crescent roll dough packages (don't judge until you try this!)
2 packages cream cheese (8 oz.), diced (and if like me, you eat more than you set aside for the recipe, buy 3!)
1 cup confectioners sugar
¾ cup white sugar
1 tablespoon milk
1 tablespoon softened butter
1 ½ teaspoons lemon juice
1 teaspoon vanilla extract
2 teaspoons sour cream
Directions:
Use lightly greased 9x13 baking pan and preheat oven to 350 degrees.
Line pan with one of the cans of rolls, pinching the seams together to seal.
Mix cream cheese, white sugar, lemon juice, vanilla extract and sour cream together in a bowl.  Spread on top of the first can of rolls, then use second can on top of filling.
Bake 20 to 30 minutes.
Mix confectioners sugar, milk and butter together.  When Danish has cooled, use as icing to dribble over Danish.
Eat!
- Jill Shalvis
Do you have a Danish recipe of your own to share? Paste it in the comments! And if you'd prefer to read about pastry (better for your waistline) — and a pastry chef looking for love, then be sure to check out Always on My Mind, on sale today in stores and online. If you're still hungry, check out our Pinterest for more literary-inspired food. For more romance news you can use, be sure to visit our Everything Romance page.