Cover Chat: Forbidden By Jacquelyn Frank
Thu, 08/30/2012 - 11:46am — admin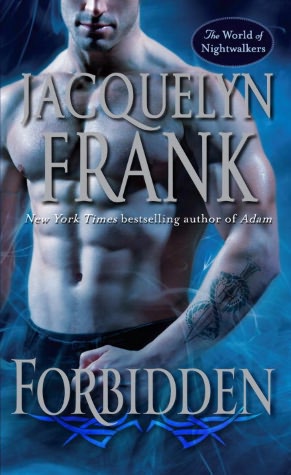 Jacquelyn Frank
won the hearts and minds of readers with her fantastic Nightwalkers series which introduced us to some unforgettable heroes and heroines. And with her just-announced spin-off series, the Bodywalkers, the author promises readers a whole new cast of characters to fall in love with. So far she has announced that there will be two books in this series, which be set in the world of the Nightwalkers:
Forbidden
and
Forever
. And although book one,
Forbidden
, doesn't hit shelves until the end of October, Frank just released a few more details about the story — and the book cover. So what can readers expect?
This novel will introduce us to a hero named Ram, a Bodywalker. Ram is a part-human host that shares his body with the ancient and powerful "twin souls inside of him," according to the book's back cover. However, this "golden warrior" has a very specific purpose. He's been sent to protect the human woman Docia from danger, knowing that the she is destined to be his king's mate. (The same king that happens to be Ram's best friend.) Yet this mission is not going to be smooth sailing for the warrior. He and Docia share an immediate attraction. However, not only would acting on their attraction go against Ram's sense of loyalty, but it would also endanger the existence of his entire race.
So clearly, Frank fans can rest easy, this story comes with the author's signature tortured romance.
And it certainly comes with Frank's signature cover look. In fact, the blue background of Forbidden — with its ripped hero gracing its front — looks quite similar to the final Nightwalkers book, Adam, which was nominated for a 2008 RT Reviewers' Choice Award and rated an RT Top Pick! With their similar coloring and subject matter, readers will have an easy visual cue to pick up the spin-off series starter Forbidden if they've read the previous series. And honestly, even if they haven't, abs like that would make me pick up a book!
The naked chest that Ram is flaunting on the cover of Forbidden also gives us a clue that this story is going to be packing some serious heat. The author confirmed that the cover art definitely captures this story's sizzle factor. Frank says about Forbidden:
"It's going to be pretty damn steamy. This book was a lot about the tease ... to come so close, to feel such deep want, but unable to touch. The next book the hero is going to wage an all-out sensual war on the heroine. Keep a spray bottle and ice water nearby. Just sayin'."
I will be sure to take this advice when I pick up my copy on the 30th of October. Between you, me and the lamp post, I can't wait to find out exactly what this sexy man's tattoo means — and why he's shrouded in an otherworldly mist.
And as an extra treat for readers, the author also sent me a copy of the next cover in the Bodywalkers series, Forever. There is no word yet on what readers will be treated to in this story, but as I gaze upon some more great abs, I'm not really paying attention to plot anyway! 
What do you think of Forbidden and Forever's covers? Let me know in the comments below and for more about these books, be sure to read the feature on author Jacquelyn Frank in the newest issue of RT BOOK REVIEWS on stands now!