Listen, I'll admit it. I'm obsessed with the fabulous dresses that adorn YA book covers, I don't care that they've become rote. I'll still stare at them in wonder, imagining a life where I can swan around in a corset with mountains of tulle — only minus the teen agnst, because, really, I had enough of that the first time around.
But when I received my latest package of ARCs, it wasn't a ballgown that caught my eye, it was a moose sweater. I know! But look: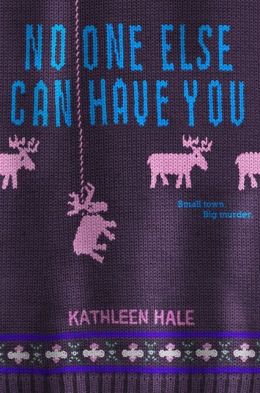 And tell me you don't want to read that book right quick. Even though I have piles of books to get through before I have time read to Kathleen Hale's debut, I still peeked at the first chapter, and man, is it good. No One Else Can Have You is the story of Kippy Bushman, who must step up and solve the brutal murder of her best friend Ruth Fried, whose body was discovered trussed up in a corn field.
And the cover gods were surely kind of Kathleen, because this is an attention-getting book jacket. It's very Fargo reminicscent, no? Which is only one of the highest compliments I can pay a book. It's also a fun take on the ironic critter sweaters that have been so popular lately, mixed in with the applique sweaters that our moms wore. It's clever, it's memorable, I can't wait to read it. What do you think?
You can find more YA covers on our Everything Young Adult page.
0

COMMENTS
SUBSCRIBE TO RSS FEED
EMAIL
PRINT
SHARE
PERMALINK