Cover Chat: Terry Pratchett and Stephen Baxter's The Long Earth
Wed, 05/23/2012 - 2:57pm — admin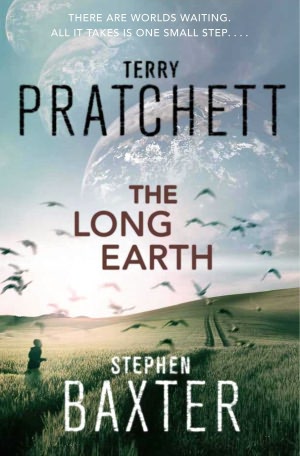 There are few things more enjoyable than a fresh new release from a fan favorite bestselling author … except for a fresh new release from two fan favorite bestselling authors. And we have Terry Pratchett and Stephen Baxter to thank for this gem of good reading fortune.
Pratchett is renowned as the king of humorous, oddball fantasy. His Discworld series is still going strong at 39 books, with about a new book in the series releasing every year since it began in 1983. However, the man hasn't written a science fiction story in nearly 30 years. On the other hand, Baxter is a prolific hard science fiction writer. His stories about space, aliens and, more recently ecological disasters in his Northland trilogy are influenced by his background as a mathematician and engineer.
So naturally (is anyone else with me on how random this is, aside from them both being big names?) these two powerhouses have teamed up to begin a science fiction series. Weird or not, I'm really excited that the men will be writing a series set in a number of alternate universes — and that the cover for their first co-written book, The Long Earth, has already been released.
The Long Earth appears to be divided into two stories, each set nearly 100 years apart. And judging by upcoming4.me's summary of the book, I'm thinking it doesn't look like TLE is going to be filled with Pratchett and Baxter's usual fare of wizards, witches, aliens and space travel:
Set around the idea that there exists possibly infinite series of parallel worlds, out of which some are almost identical to Earth while others are completely different …
Here's what I know for certain based on the back cover blurb. The first story is set in 1916. It begins when an army soldier mysteriously finds himself lying on the ground, no war in sight. He must figure out where he's been transported to and what has happened to the war he was supposed to be fighting. The second tale takes place in 2015 and follows a police office as she attempts to solve the abrupt disappearance of a scientist, and stumbles upon a bizarre invention involving, according to the back cover blurb, " … some rudimentary wiring, a three-way switch, and ... a potato … " These stories already promise to have a touch of Pratchett's whimsy and Baxter's storytelling, which tends to be more grounded in fact. It's unclear if one author will be tackling each story, or if both stories will be co-written, but I'm eager to see how Baxter and Pratchett intertwine these parallel universes.
The cover of The Long Earth is stunning, yet simple and definitely says that this collaboration has produced something out of the ordinary. For one thing, it's quite different from the iconic Discworld covers, illustrated by Josh Kirby, that come to mind when I think of Terry Pratchett. At first glance, this doesn't even look like a science fiction cover, but a closer look reveals three translucent images of Earth, slowly fading into the background, underneath the tagline "There are worlds waiting. All it takes is one small step … ." The planets are positioned above a field (which may or may not be the place the soldier from the first story wakes up in). It's a juxtaposition that certainly adds some mystery to the cover.
So basically here's what I get from the cover: We don't exactly know where these story will take us or what we're in for, but if Baxter and Pratchett are captaining the ship, you better believe this reader will be on board!
What do you think of the cover for the first Pratchett and Baxter book? Let me know in the comments below. And for more genre news be sure to visit RT's Everything Science Fiction and Fantasy Page!