Cozy Corner: Author Interview With Virginia Lowell On Her Sweet New Series
Wed, 04/20/2011 - 2:10pm — admin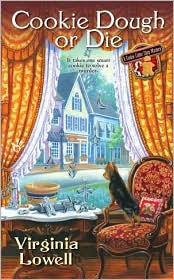 Today we get a chance to chat with mystery author Virginia Lowell about her new series that kicks off with this month's Cookie Dough or Die. We knew we needed to get a special look at how Lowell cooked up this small town romp that will satisfy any mystery-lover with a sweet tooth!
***
What were the easiest things about writing Cookie Dough or Die and what were the most challenging aspects of the story?
The easiest part was, of course, the cookies and cookie cutters. I loved writing scenes where I could sink into my senses and enjoy the tastes, the smells, the visual beauty of decorated cookies. It was great fun to research cookie cutters and imagine ways to use them in the mystery. The most challenging aspects…? I'd have to say, the suspect list— weaving together the characters and lives of potential murderers so that each might seem to have a convincing motive for killing an otherwise admirable victim.
Cookie Dough or Die has Olivia racing to uncover a killer and clear her good name after she is accused of murdering her mentor, Clarisse. Can you share the most valuable piece of advice Clarisse ever gave Olivia?
When Olivia was thinking about starting a business and wondering what she should sell, Clarisse told her, "Follow your loves. If you love cookie cutters, don't sell lawn mowers." So Olivia opened The Gingerbread House and found that her passion for cookie cutters gave her the energy and drive to keep going. It also helped her solve Clarisse's murder.
What is the most-ordered cookie at The Gingerbread House and is this your favorite type of sweet treat?
Customers at The Gingerbread House seem to love any cookie decorated with luster dust because it creates a smooth metallic sheen. At least, that's the reason they give. Soon after the store opened, someone—Olivia suspects Maddie, her best friend and business partner—spread the word around Chatterley Heights that luster dust is mixed with vodka to create its lovely effect. Sales skyrocketed. Olivia has so far failed to mention that the vodka evaporates. That would be bad business.
As for me, I go for the biggest decorated cookie I can find, cut with at least a four-inch cookie cutter. And no little smiley faces on bare cookies—no, I want icing from end to end.
We have to ask, is there such a thing as antique cookie cutters — and are they in high demand?
Yes, indeed, there are such things as antique cookie cutters, often called vintage cutters. You'll find them in antique stores, on e-bay... I know of at least two National Cookie Cutter Historical Museums—in Monet, Missouri, and Williamston, Michigan. Check out the National Cookie Cutter Collectors Club to dig into the fascinating history of cookie cutters. Possibly I'm biased, but I believe the interest in vintage cookie cutters is growing.
Chatterley Heights is located in the outskirts of Baltimore. What makes this the perfect place to set your cookie-filled cozy mysteries?
The area felt right for several reasons. It's an older part of the country, which means historic homes and, of course, antiques of all sorts. There are lovely areas with rolling hills, interspersed with developments for commuters who work in DC or Baltimore. In a sense, the area combines an old-world feel with enough affluence to support a store that specializes in cookie cutters. But those are the practical reasons. Here's the real reason: I didn't want to run out of potential murder victims. Or suspects. I mean, think about it. The population of little Cabot Cove, Maine, was nearly wiped out by weekly murders. Jessica Fletcher had to move to New York City to find more mysteries to solve.
The series second, A Cookie Before Dying, is scheduled to release on December 6, 2011. Can you share a detail from the story that RT readers can look for?  
There are lots of cookie cutters to be found in A Cookie Before Dying, but for Olivia, only certain cutters speak of murder. Look for those few….
***
You can pick up your own copy of the delicious Cookie Dough or Die in stores now!