Cozy Corner: Janice Hamrick Introduces The Cast Of Death On Tour
Wed, 04/27/2011 - 11:24am — admin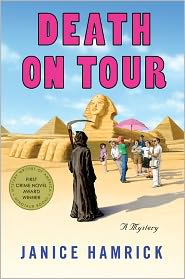 Debut mystery author Janice Hamrick has us charmed with this month's Death on Tour. As heroine Jocelyn Shore does her best to take in all the sights on much-anticipated tour of Egypt, a murderer strikes and she may be just the woman to discover the killer's identity. Before you buy your ticket for this witty and wild ride, get an insider's look at the characters that you will be joining!
A murder in broad daylight at the base of the Great Pyramids of Giza. A case of mistaken identity. A priceless necklace given and then stolen. All these events make up the story of Death on Tour, but none of them would have been possible without the unexpected mix of personalities who meet on a budget tour and end up reacting like particles in a well-intentioned but ill-fated lab experiment.
The story unfolds through the eyes of Jocelyn Shore, a twenty-eight year old high school history teacher from Austin, Texas. A bitter divorce and years of dealing with an unending stream of devious high school kids have given Jocelyn a sharp eye and a unique, amused, and sometimes acerbic take on the actions and motivations of those around her. At the bottom, she genuinely likes people, but that doesn't mean she is blind to their foibles and flaws. Or their deceptions.
Traveling with her is her cousin, Kyla Shore. Kyla and Jocelyn resemble each other more than most cousins, but comments to that effect act on Kyla's nerves like foil on a filling. Kyla is stylish, successful, and always in competition with the practical, no-frills Jocelyn. On this trip, the primary source of competition is the single and mysterious Alan Stratton. Jocelyn, burned once by a man, finds his explanations about a dead wife unconvincing and suspects him of being as dishonest as he is attractive. Kyla, without any such reservations, makes a full out play for his attentions and resents that he continues to single out Jocelyn.
As the tour moves south into the heart of Egypt, Jocelyn is constantly surprised by her fellow travelers. The elderly Yvonne and Charlie, who hold hands so sweetly, are not celebrating a golden anniversary — they're on their honeymoon after decades of practicing criminal law. The friendly Australians Ben and Lydia claim they are traveling with their niece, but the girl who appears on the bus is not the same one Jocelyn noticed with them at the airport. DJ, the outgoing doctor, leaps at every opportunity to talk and haggle with street vendors, buying what is surely an excessive quantity of cheap souvenirs while his wife Nimmi tries to shoplift an expensive gold ring. Tour guide Anni is competent and tactful under pressure, but her manager Mohammad decides at the last moment to accompany the group to Aswan anyway, and then proceeds to be all but useless in helping her with the tour.
Although Jocelyn can't help noticing the contradictions and anomalies among the oddly assorted little group, she tries to focus on enjoying her vacation. But when another death occurs and she herself is savagely attacked in the darkness of a tomb, she decides that she will have to take matters into her own hands if she wants to get out of Egypt alive. The only problem is trying to figure out which of her companions are merely eccentric and which is a cold-blooded killer.
- Janice Hamrick
Which one of these madcap characters is a murderer? See if you can figure it out before Jocelyn does in Death on Tour, which hits bookshelves today!