Cozy Corner: Sarah Graves On Knockdown The Upcoming Story In The Home Repair Is Homicide Series
Wed, 03/16/2011 - 2:13pm — admin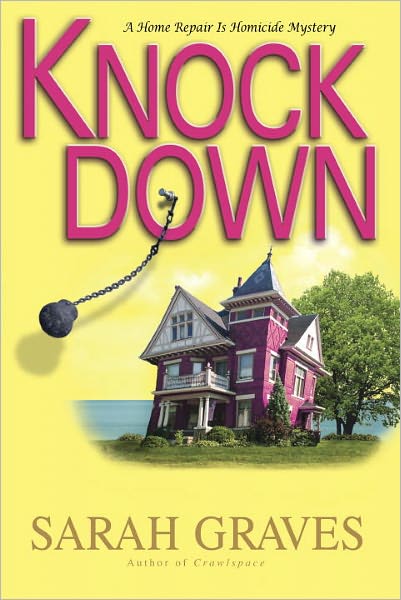 In this week's Cozy Corner we chat with Sarah Graves of the popular Home Repair is Homicide series. Learn how the author started building her series from the ground up, while she was repairing her own house and find out what you can expect from her upcoming novel, Knockdown.
When I first came to Eastport, Maine and started writing the Home Repair is Homicide series starring home-repair enthusiast Jake Tiptree, like her I also started fixing up an old house.
Now, more than a dozen years later, the series still isn't finished and the house isn't, either. I guess you just never know what you're getting yourself into when you fix that first leak, paint that first wall, scrape the first acre of wallpaper...
Or when you plot that first murder. The next thing you know, you're wearing your own carpenter's apron, swinging your own hammer...and researching just how far a 12-gauge shotgun's range really is, anyway, and whether or not you can put a silencer on one (hint: don't try this at home).
And after that, the sky's really the limit. Over the years, Jake's friends and family – her teen son Sam, close pal Ellie White, and especially Jake's husband, the hunky Maine harbor pilot and antique gun expert, Wade Sorenson, plus a quirky cast of downeast Maine locals – have helped her investigate all kinds of deadly mayhem. At the same time, on the home repair front she's battled floods, fires, collapses, explosions, and in one case a cast-iron bathtub rampaging down a flight of stairs.
I try to keep up: typing as fast as I can with one hand while with the other I rehabilitate old windows, install weatherstripping, and stain floors. Like Jake, I figure that if I can fix the old house up at one end faster than it can fall down at the other, I can stay ahead of the game.
And if the lurking murderer doesn't get me, of course. In the newest of Jake's sleuthing adventures, Knockdown, that's the question: will he or won't he? Jake's chased killers before, but in this book the tables are turned; he's got her on the run, and he's got the equivalent of that shotgun I mentioned earlier, too. The weapon, and some very strange reasons for wanting to use it...
In Knockdown, the beauty of downeast Maine turns savage, as an Eastport newcomer mixes a fatal obsession with Jake's past, his own tragic family history, and the urge to kill. Targeting Jake, he plots fiendishly to demolish all she holds dear, and though she battles him valiantly, this particular deadly villain might just have her nailed.
Meanwhile, of course, Jake's old house totters precariously along, just like mine: the porch-repair project that she tackled in Knockdown is the same one I'll be doing later in spring, and if my vegetable garden gets enlarged this summer, can hers be far behind? Although what's dug up out of her backyard promises to be much more dangerous...
Eastport is three hours from Bangor and light-years, or so it often seems, from everywhere else. But it's where my heart and home are – Jake's, too – and as always I invite you to join us here for home repair and homicide, downeast-Maine style.
And...bring your hammer!
- Sarah Graves
You can check out Knockdown for yourself when this new mystery hits shelves on April 26th, 2011.