Crown of Midnight Celebration: Part One
Mon, 08/26/2013 - 2:17pm — admin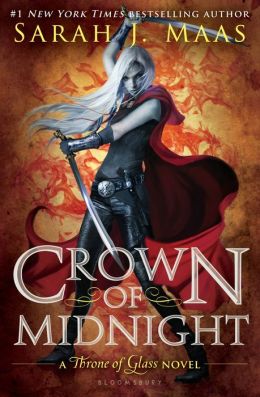 Full of court politics, high-stakes action, and endearing romance, it's no surprise that readers have latched onto Sarah J. Maas' Throne of Glass characters and world. And with Crown of Midnight, the second in this bestselling series, readers are in for another rousing adventure. In this first of a two-part story, we take go inside Crown of Midnight and what readers can expect to see in this sequel. Take a look!
***
In the first book, Throne of Glass, readers were introduced to Maas' rich, dark, and sweeping fantasy world of magic and witty assassins. When asked how she's expanded on this world in Crown of Midnight, Maas said, " ... it's hard to say without giving much away, but readers will definitely get a chance to see more of the world thanks to a few new characters." Maas also teased that " ... readers will learn more about the capital city's underbelly" and Celaena's past, including her life before being an assassin.
Speaking of our favorite assassin, readers can expect to see a different, more mature Celaena in the new book. Maas said, "I'd say Celaena is definitely a bit darker, and more confident and level now ... But on the other hand, she's keenly aware of how much she has to lose .... " Celaena will also see her relationships undergo some strain as she adjusts to her new position. We're sure this will provide plenty of romantic angst between her, Dorian, and Chaol — and we like angst!
With the story and characters taking darker turns, leading them into even more fantastical situations, we asked Maas what her favorite scene in the new book is, and for her, choosing just one was difficult. She said, " ... it's hard to say without ruining the story, but I have two favorite scenes: one is in Chapter 23 (readers will be able to see why), and the other is at the end of Chapter 51." While they may be polar opposites of one another, she said, " ... every time I think about the book, those are the two that spring to mind." She added, "I might even prefer the second scene (especially the line it ends on, and the scene that immediately follows it) — and I'm not sure what that says about me as a person."
It's not difficult to see why Maas has more than one favorite scene since she poured everything she had into writing it. She joked, "I called it the Headache Book, because I cried so much while writing parts of it that I had a near-constant headache. (What can I say? I'm an emotional person.)" She also cited the Throne of Glass prequel novellas that were released back to back as adding to the pressure, and that she was "nearly running on empty". Her love for the story kept her moving forward, though. " ... I loved the story so much that I pounded out the first draft in about a month. I poured everything I had into writing the book .... " In the end, she "wound up with a book that [she is] really, really proud of."
***
Be sure to check back tomorrow for part two of Crown of Midnight celebration with even more insights from Sarah J. Maas and with the series' map designer, Kelly de Groot! And be sure to grab your copy of the book in-stores or online tomorrow! For more YA check out our Everything Young Adult Page.