Crown of Midnight Celebration: Part Two
Tue, 08/27/2013 - 1:04pm — admin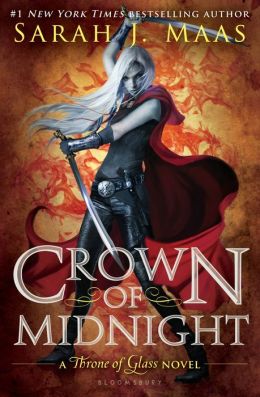 Yesterday, we brought you part one of our special two-part discussion of young adult author Sarah J. Maas' Crown of Midnight, the highly-anticipated sequel to her debut, Throne of Glass. Today, we not only chat with Maas about her Pinterest boards for the series, but also with Kelly de Groot, the artist behind the map found in the book. And to cap it all off, Maas talks about her upcoming series, A Court of Thorn and Roses!
***
Sarah J. Maas' hard work is definitely apparent and her attention to details help bring her characters and worlds to life in amazingly visual manners. One of the ways she adds another dimension to her stories is by collecting and sharing images that inspire her projects on Pinterest. With so many images for current and future works, we wondered if she ever worries about giving away too much about her stories. "Well, I try not to post stuff that's too spoilery, and if I tag something as related to an upcoming book, I often don't say why," she said. "If anything, I hope [the images] get readers more excited for the series!"
Another element that adds to the overall story is the beautiful map of Erilea, the fictional country the series is set in, which was first seen on the inside pages of Throne of Glass. Designed by Kelly de Groot, a longtime Maas fan, the map marked de Groot's first official piece of cartography. But she's always loved maps and her desire to create maps herself ignited after seeing the Lord of the Rings movies. "One thing to led another, and I soon found myself spending hours playing around with maps in Photoshop," she said. One of the major things de Groot took into consideration when designing the Erilea map was the font. de Groot recalled "trying out dozens of fonts just to find the right one that remained legible, yet also had a fantasy quality to it."
Click map to enlarge
When asked why she loves Throne of Glass so much as to design a whole map for it, de Groot said, "I fell in love with it the moment I met celaena, and I haven't stopped loving it since." She cited the book's combination of "fairy tales, love, magic, courage, fantasy, [and] friendship" as being the characteristics she admires most about the book. Though, it's the characters she loves most. "No matter if I...put away the book, the characters always stayed with me and every time I re-read Throne of Glass it's like seeing old friends again."
With Crown of Midnight's release, readers are going to be clamoring for more Maas, whether it's for the next book in the series or for her recently announced series, A Court of Thorns and Roses. What can readers expect from this new series? Maas said, "Well, to start, like Throne of Glass, A Court of Thorns and Roses features a strong, independent heroine (she's actually a hunter), and it's set in a fantasy world." She added that, "The series is a little darker...and is more romance-heavy". Nalini Singh and J.R. Ward are two of her favorite romance authors, and she is "super, super excited to get to try [her] hand at a series that's more romance-focused."
***
Thank you for joining us for the second part of our look inside Crown of Midnight! If you missed part one, be sure to check it out here. And for even more YA buzz, head on over to our Everything Young Adult Page!