Cynthia Ruchti On Motherhood In Many Forms
Mon, 04/01/2013 - 11:48am — admin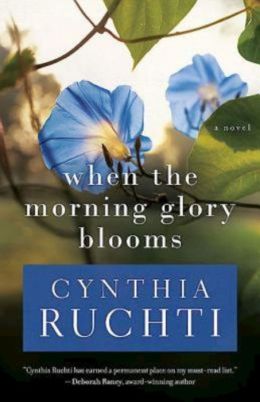 Today Cynthia Ruchti releases her novel When the Morning Glory Blooms which tells the story of three women whose lives are changed forever by motherhood. Becky is the mother of a teen who unexpectedly gets pregnant. Ivy becomes pregnant and her soldier husband, who is fighting overseas, is unaware of the news. And Anna, an elderly woman Ivy meets working in a nursing home, shares some very valuable words of wisdom gained through a lifetime of living. Today the author shares how motherhood can shape us in many ways, and what drove her to craft this heartwarming tale.
I dreamed about her again last night. The mom who will be handed When the Morning Glory Blooms for Mother's Day along with a note that says, "Thank you for loving me … even then."
The high school student hoping to graduate before her due date. She opens her backpack to find a ribbon-wrapped, morning glory-splashed novel and a note from her broken-hearted mother. "I'm here. Lean on me."
The seventy-year-old woman who will read When the Morning Glory Blooms and embrace the grace reserved for her, the one she's resisted because of her past.
I dream about the woman who is captured by the intertwined stories and finds her own story untangling, the reader who relives what it was like to be loved through a tough time, and the reader who never did find out why her dad couldn't rise above his disappointment.
Of all the stories in my "someday" file, why this one? Why was I pressed to create a novel with three women's voices, three perspectives, three eras dealing with the same issue?
Because of the readers I dream about. What family hasn't been touched in some way by an unplanned pregnancy? How many family reunions know an awkward pause when someone does the math between the grandparents' anniversary date and Aunt Elaine's birthdate? How many graduation gowns hide a baby bump? How many hearts sink at words that should make them soar—"Mom, Dad, I'm pregnant"?
And how few of us know how to handle that news elegantly.
My mama-heart feels those scenarios as if they happened to me. Some did. My author-heart couldn't resist exploring how news like that has impacted families for centuries, through eras when no one talked about it, when young women were secretly swept off to live with an aunt for the summer and came back hollowed-eyed, when war complicated things at least as much as it does now, and the present when consequences are either ignored or trumpeted in reality TV ….
I wanted to live with and befriend characters who dove head-first into another person's pain. I wanted — no, I needed — to listen to the heart cries, the challenges, and the injustices beyond the initial announcement or for those who couldn't even say the words.
If I've done my job well as an author, some will read When the Morning Glory Blooms and note the subtle twists, the intensity of the mystery, the way the three eras are inextricably linked, and even how humor offers a relief valve in wrenching situations. Some readers may find themselves applauding the wonder/sacrifice of motherhood. Some may grow to care so deeply about the characters that they'll wonder, "Whatever happened to Lauren? I should call Becky and see if she wants to do coffee."
They're that real to me because they reflect the lives of people I know and love.
As I sat with my fingers poised over the keyboard, grace and hope showed up on the pages, changing everything with a baby's first sweet breath. 
- Cynthia Ruchti
You can pick up a copy of When the Morning Glory Blooms, available in stores today. For more uplifting novels filled with faith, visit our Everything Inspirational Page.