Dakota Cassidy's Top Ten Phone Sex Tips
Tue, 04/29/2014 - 10:47am — admin
Sometimes being part of RT's web team is just too easy. You see that the hilarious and sassy Dakota Cassidy is releasing a romance about phone sex called, gloriously, Talk Dirty to Me (an RT Top Pick!). You email Dakota (she calls you doll) and ask her to send along her top 10 phone sex tips. Boom. Everybody wins. And you're never going to look at your fly swatter the same way again. School us, Dakota!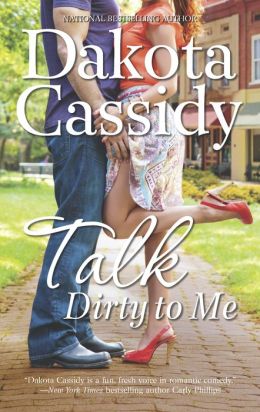 I'm not ashamed to say, I called up a phone sex operator in order to research my new series, because, well, how can you write about phone sex if you don't at least talk to Mistress Lana and ask the poor woman every question known to man about the business of phone sex? She was lovely, by the way, and very informative about all the ins and outs of the phone sex operating business. I think she even friended me on Facebook.
Anyway, here's what I learned (huge thanks to my Facebook pals for some amazing insight, too!):
If you're a client:
1. Have your credit card ready, preferably with a big limit available if you hope to cultivate a relationship that, ahem, finds fruition (wiggles eyebrows), because it can cost upwards of $4.99 a minute after the initial first few minutes, people. Or just be quick on the draw to maximize your bargain phone sexing.
2. Finding the right phone sex partner is critical to your success. It's rather like finding the right insurance carrier. You want the best bang for your buck. I say that with all seriousness—pun sort of intended.
3. Find your phone sex operator match. As in, if you're not comfortable with kink, don't call Madam Flogger LaRue. She's probably not an appropriate captain for the Good Ship Vanilla.
4. And the most crucial tip of all: Be sure you have the correct number. It'll never do if you think you're calling Princess Kitty, but you've really dialed your mama!
For phone sex operators:
5. Know your sound effects. Fly swatters are particularly arousing, I'm told. Not a lie. Also, use your moans sparingly—it's all in the breathing.
6. Multi-task, phone sex gurus! For instance, clean the oven whilst entertaining.
7. Wear a headset. See No. 5 for optimal multi-tasking.
8. If your client asks what you're wearing, avoid saying Depends.
9. Avoid helium. Chipmunks are much cuter singing Christmas carols.10. Final tip: Speaking of insurance carriers, for the frugal caller, dial Jake from State Farm, he'll tell you what he's wearing, and it's a 1-800 number, which means: FREEBIE!
- Dakota Cassidy
We hope you learned some helpful tips, no matter what side of the phone sex equation you find yourself on. Be sure to check out Dakota's series starter, Talk Dirty to Me, out today in stores and online. And for more spicy love stories, be sure to visit our Everything Romance page.