Dear T: A Love Letter from Jenny Han
Tue, 04/15/2014 - 11:19am — admin
There's nothing as embarrassing as having your secret love letters to your crushes mailed to them. Well, we imagine it would be rather traumatizing. Thankfully, we haven't had this happen to us, but Lara Jean, the protagonist in Jenny Han's To All the Boys I've Loved Before, has! Today, to celebrate the book's recent release, Jenny shares a letter of her own and it's sure to make you think once or twice about your old unrequited loves. Take a look: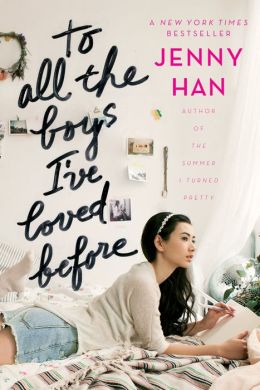 Dear T,
You were in my dream the other night. I was in a cafe in Paris, and there you were sitting at the counter, 17 with skinny legs. We spoke, and I don't remember what we said, but in the dream I felt really good about myself. I was an adult, a writer living in New York, and you were still teenaged you. You hadn't changed at all. When I woke up, I tried to fall back asleep so I could step back into the dream, say all the things I never got to say to you back in high school.
I liked you so much back then. So, so much. Nobody could understand it. Not my dad, who said you had "mean eyes." Not my little sister, who pointed out your troubled skin. Not my mom, who would shudder at the sound of your name and say, "He's not a nice boy."
You weren't a nice boy. You were cruel, and you did have mean eyes and bad skin. You used to call me names and pull my hair during prayer time at church. You smoked weed, and you drove too fast. You mumbled; no parents liked you.
In high school I wrote poems, short stories, even a one-act play about you. Even as I liked you, I was trying to write my way through getting over you. Even then I knew you were bad news.
Twenty years later, I'm struggling to remember good things about you. Even mundane good things. I suppose you did have a certain kind of charm, a certain kind of cleverness. You were tall, you had nice arms. You looked good in khakis. You had a high pitched laugh; I remember finding that endearing. But only when you were laughing because of something I said, not all those times you were laughing at me. When you teased me, I hated it and deep down I loved it too, because it meant your attention was solely on me. I was the one you were thinking about, not Tina with the golden skin and big boobs, or Sumi the guys' girl.
I thought I understood you. I think, back then, I did. I used to say to my friends, One day he's going to grow up and be who he's supposed to be. Did you ever become who you were supposed to be, I wonder? I hear you're a father now, that you went back to school, quit drugs. I hope so. I hope you're well. And I hope you see my picture at the bookstore and think, Damn, I should've been nicer to that girl.   
Yours truly,
Jenny
Don't miss out on To All the Boys I've Loved Before, get your copy in stores or online today! If you'd like to write a letter of your own, feel free to share in the comments. And for more YA authors and books, visit our Everything Young Adult page.