Debbie Macomber Is Heading To Nashville For A Fan Retreat - With Giveaway
Thu, 06/27/2013 - 2:14pm — admin
Beloved romance author Debbie Macomber has always had a strong connection to her readers. Attending signings, hosting workshops and even inviting fans to her hometown, Debbie is as friendly and welcoming as one of her sweet contemporary readas. And this summer the author is hosting a new event — a weekend retreat in beautiful Nashville! If you are ready for a relaxing three days of laughter, food and fun with fellow readers as well as the bestselling author, then you will definitely want to to check out is opportunity. Read on to find out more about the event from the author and at the end of the post, enter for a chance to win two tickets to the retreat — one for you and one for a friend. 
***
Your fan retreat takes place in Nashville. What made you choose this city?
It's a good central location; there is equal opportunity for anyone in the country to join us. Also, there is a fabulous hotel we are staying at, right next to Opryland. And, of course, there is all that southern food! 
The retreat includes lots of great events including a sock hop with country music, a tour of local landmarks, a beautiful hotel with all of the amenities. What's going to be your favorite thing to do? 
 No doubt about it, eating!
So you are in it for the food?
Definitely! But really the best part of this weekend is going to be sharing my family with the readers. Not only are my children coming, but also my staff. Six of my seven employees are going to be in Nashville.
You will be introducing fans to your friends and family, and also to your next book in the Cedar Cove series Rose Harbor in Bloom, which will be reviewed in our August issue. What can you tell us about this story?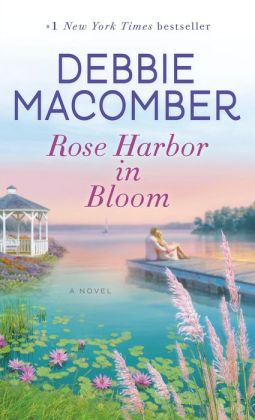 Rose Harbor In Bloom is the second book in my series, however, it is set in the familiar Cedar Cove. I have so many characters in the town and my readers wanted to hear more about them. I came up with the solution to set the new series in an inn and so there are new characters that come and go. 
Every time someone checks in, you get more stories.
That's right! The familiar faces are Jo Marie the inn's owner and Mark the handyman. Jo Marie is in her mid thirties. It took her a long time to fall in love and find the right man. They were married shortly and then she lost him. She named the inn Rose Harbor because "Rose" is her surname (Paul Rose was her husband) and "Harbor" because this is a place of healing for her. In fact, the theme of the series is about creating a healing place where people can come with burdens, heartache and unresolved conflicts in their life and find comfort.
Another character in Rose Harbor in Bloom is Mary. She has cancer and she is thinking about all the things she wishes she had done differently and all the people she has hurt. She really just wants to make amends the best way she can. And finally there is Annie who is planning an anniversary party for her grandparents. They have been married for decades, but can't get along — at all. 
Well, they don't sound like very good role models!
They are constantly at odds and their lighthearted bickering becomes a fun part of the story. I wanted to lighten it up. Cancer is a pretty dark subject and I wanted to have a balance there.
Rose Harbor in Bloom isn't the only project you have coming up. This summer, the Hallmark Channel is launching the Cedar Cove television series starring Andie MacDowell. It must be great to see your words translated from the page to the screen.
 It's really amazing. I've been on set now three times and seeing Andie MacDowell has been fantastic!
She's been a favorite actress of mine since Groundhog Day.
I've loved her since Four Weddings and a Funeral. Oh, that hat! She is just such a phenomenal actress. Every time I see her I am all the more honored that she has taken on this role. She just personifies Olivia.
Excited to hear more about Cedar Cove? You can join Debbie Macomber at her Fan Retreat in Nashville from August 9-11. Read more about this event below and enter for a chance to win tickets.
***
Looking for an easy summer getaway? Grab your girlfriends and head to Nashville for a special weekend with fellow book lovers in one of the South's most vibrant cities! Held at the exquisite Opryland Resort from August 9–11, Debbie Macomber Fan Retreat offers the perfect way to experience the tastes, sounds and Southern charms of Nashville.
Enjoy a weekend of fun without planning a thing
Book your hotel room and your Fan Retreat ticket covers the rest! Get ready for an all-inclusive weekend of entertainment: listen to a country music band under the Tennessee stars; hop on a bus tour of Nashville's landmarks and celebrity homes; dance the night away with friends at the Sock Hop Dinner; and spend time with one of America's favorite authors, Debbie Macomber.  
Experience the famed Opryland Resort for less
Fan Retreat guests will enjoy Opryland Resort's many amenities – luxurious guest rooms, acres of beautiful indoor gardens, cascading waterfalls, three pools to lounge by – all at an exclusive discount, making this the perfect weekend escape.
Exclusive perks at Fan Retreat
At Fan Retreat you'll walk away with tons of swag: a one year subscription to All You; early access to Debbie Macomber's new novel, Rose Harbor in Bloom; and special giveaways from some our partners including FitBit, Celestial Seasonings and local favorite, GooGoo Clusters. To lighten the load, we're including a Debbie Macomber tote bag to help bring everything home!
Create lasting memories this summer at the Debbie Macomber Fan Retreat! For more information and tickets, go to MacomberRetreat.com.
GIVEAWAY ALERT: One lucky reader will win 2 tickets to the Debbie Macomber Fan Retreat. One for you and one for your closest friend! To enter, tell us who you would like to bring with you and why in the comments below. Or email us your answer here with the subject line "Debbie Macomber Retreat Giveaway". The winner will be announced on July 5. (Tickets include access to all of the Retreat's events, but does not include hotel or travel.) This giveaway is open to all readers.
You can pick up a copy of Rose Harbor in Bloom, available August 13. For more sweet romance, visit our Everything Romance Page.