Debbie Macomber Reflects On Her Ten Book Strong Cedar Cove Series
Tue, 08/31/2010 - 5:50pm — admin
Mega-star author Debbie Macomber reflects on her tenth Cedar Cove novel, 1022 Evergreen Place. Learn which true-life love story inspired the mystery that characters Mack and Mary Jo stumble upon. And find out more about the town that inspired the series, including a map of Cedar Cove aka Port Orchard, Washington at the end of this post!
It doesn't seem possible that my first Cedar Cove book (16 Lighthouse Road) was published ten years ago. Even more incredible is that 1022 Evergreen Place is the tenth book in this ongoing series. How long will the series last? Until all the stories are told! 
This series came about as a result of reader feedback. During my 25-years-plus career, I've written several short, connected series. The first was the Midnight Sons, six Alaska-based books. These proved so popular that I wrote a series set in Promise, Texas. My last four-book series was based in Buffalo Valley, North Dakota. 
Nearly every day I receive mail asking me what will happen next to the characters in those books. Finally I realized these characters had become friends to my readers, and they wanted more. So in this new series, I gave it to them! 
In choosing a locale for what became the Cedar Cove series, I decided to set it in a town closely modeled after my very own Port Orchard, Washington. There's no place on earth more beautiful than the Pacific Northwest when the sun shines, and it made sense to set this new series in an area with which I'm most familiar. 
The Cedar Cove series gave me my first #1 position on the New York Times list and launched a festival that brought 12,000 people from 42 states and seven countries to my hometown in 2009.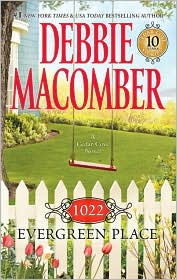 With each book in the Cedar Cove series I've included a romance and a mystery. The mystery in 1022 Evergreen Place revolves around letters written during World War II that Mack McAfee and Mary Jo Wyse discover in her side of the duplex they share. 
In writing this book, I drew on the diary my mother kept during those war years. My mother died five years ago, and working on this book brought me close to her in ways I never expected. While reading her diary, I saw my parents' beautiful love story evolve. Several entries brought tears to my eyes. My father was captured and imprisoned in Germany until the end of the war. Each night my mother poured out her heart, worried about my father, fearing the worst. She lived in dread of receiving a telegram. 
Eventually she learned that my father was alive, but the waiting was excruciating. In one entry I learned that my father, probably through his sister, sent my mother roses on their wedding anniversary. Mom wrote: "Roses from my Teddy. Oh, my heart."
The romance in 1022 Evergreen Place is in the growing attraction between Mary Jo and Mack, the firefighter who helped deliver her baby in A Cedar Cove Christmas. But this new story also updates my readers on other characters, particularly Rachel and Bruce, Olivia, Grace, Charlotte and Ben.
Check out www.CedarCoveSeries.com, a site I launched in celebration of the Cedar Cove Series' 10th Anniversary. You'll also find fun excerpts and frequent updates on my iPhone and Android app.
Join me in Cedar Cove. It's truly a town you'd love to call home.
- Debbie Macomber
You can see just how similar the fictional Cedar Cove is to Port Orchard, Washington in this map!
Blog Update 9/2/2010: Be sure to friend Debbie Macomber on Facebook here and let the author know what you think about 1022 Evergreen Place in stores now!