Debbie Viguie's Heroine Shares Her 10 Step Program For Banishing Black Magic
Thu, 03/07/2013 - 10:51am — admin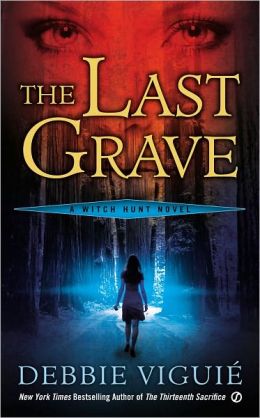 Debbie Viguié's latest Urban Fantasy, The Last Grave, tells the story of witch hunter turned homicide detective Samantha Ryan, who moves to San Francisco looking to forget her past. But her secret life soon catches up to her when the murder of a local historian brings Samantha deep into the mountains of Santa Cruz, a place filled with dark magic and sorcery. It can't be easy to fight supernatural forces, so we asked Samantha for some expert advice on facing the darkness. 
***
SAMANTHA RYAN'S 10 STEP PROGRAM FOR BANISHING BLACK MAGIC
Step 1 - Accept that while black magic exists in the world, I am powerless to rid the world of it and to keep myself from succumbing to it if I continue to practice magic. I am not a superhero. Nor do I want to be. Not even if I get to wear a cape.
Step 2 - Rid myself of all the trappings of black magic and the things I have owned since childhood or that I have inherited from my mother. I will burn what I can and destroy the other items by whatever means necessary. Except for my kitten Freaky, who is more of a magical energy creature than anything else. Can't live without Freaky.
Step 3 - I will refuse to put myself in a position where I will be surrounded by practitioners of any type of magic lest I be tempted to use it myself. Loner, lone wolf, that's me.
Step 4 - I will forgive myself for what happened in my past and remind myself on a constant basis that I can leave those things in the past and I do not have to carry that baggage with me in the present. (Easier said than done!)
Step 5 - I will rely on God to help me when I am too weak to help myself, which lately seems to be a lot. The problem is I'm not weak; I'm strong, powerful, but in that way lies danger.
Step 6 - I will give myself permission to remember all the frightening, painful parts of my past so that I know exactly what I did and can identify any people that I have hurt.
Step 7 - I will seek forgiveness from all those whom I have wronged through the practice of black magic. I know that this will include many trips to graveyards but I cannot summon any ghosts or spirits to apologize to because that would violate most of these steps.
Step 8 - I will refuse to watch television, read books, play games, or consume other entertainment which has a magical theme to it. I am not a Charmed one, more like dark Willow from Buffy. The fact that I know that proves I'm already too immersed. I can do this, I know I can. This will be the hardest step of all, though, because it means giving up watching Supernatural and I think I might just be in love with Dean Winchester.
Step 9 - I will find someone to hold me accountable, preferably someone who understands the danger of who I could become if I allowed myself to practice magic again. I will constantly remind myself that Dean Winchester is a fictional character and therefore not able to do this. I will also remind myself that the actor Jensen Ackles would most certainly take out a restraining order.
Step 10 - I will spend every day for the rest of my life reflecting only on things that are good and positive and I will renounce my need for magic and the power that comes with using it. I will refuse to acknowledge that this is a battle I have already lost.
You can watch Samantha put these steps in action in The Last Grave, available in stores now. And don't miss Debbie's next stop on her blog tour, a Q&A over at SciFiChick tomorrow! For more genre news and coverage visit our Everything Paranormal & Urban Fantasy Page.