Debut Author Spotlight: Amy Christine Parker
Wed, 08/07/2013 - 1:36pm — admin
Name: Amy Christine Parker
Book: Gated
Genre: Young Adult Contemporary Thriller
Current Home: Wesley Chapel, Florida
Job (when not writing): Taking care of two very creative and energetic daughters
Author Icons: Stephen King, Gillian Flynn, Dean Koontz, Joe Hill, Libba Bray, Maggie Stiefvater
Gated's premise is fairly intense and complex. What was the hardest part about writing it? What was the easiest?
The hardest part of writing Gated was getting into the mindset of the characters. They are very different from anyone I've known personally. I've never been inside a cult and so to try and see my character's world through her eyes was pretty tough. I worried a lot about getting it right. The easiest part was doing the research. I find the whole subject of cults and their leaders absolutely fascinating. I could very easily have researched for years if I let myself.
The story takes place in a cult community, which is a unique and intriguing setting. How did you research what it's like to be a member of such a community?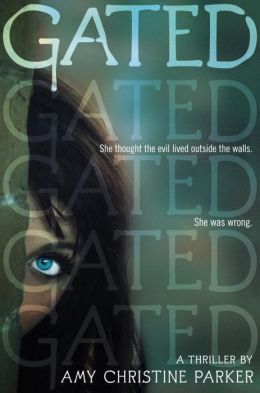 I watched a lot of documentaries about cults and read several first-person accounts like Lost Boys by Brent W. Jeffs. I read through the Jonestown massacre transcripts many, many times and more articles dealing with the psychology of cults than I can list here. I watched interviews with Charles Manson and his followers and the radio interview with David Koresh from the Waco compound. I really never stopped researching, even after I had more than enough to write the book. The interviews and accounts were so creepy that they really kept me inspired.
Lyla, the main character, falls in love with a boy who's an "outsider," someone who doesn't live in the Community. What can readers expect from their relationship?
You can expect to see the very beginning of first love blossoming between Lyla and Cody, the boy who lives outside the gates. They have an instant attraction that Lyla has never experienced before, and in her exploration of it she becomes exposed to the real world and some very different perspectives on her Community. It's a relationship that helps her grow while challenging her beliefs.
What do you hope readers take away from reading Gated?
I hope that by getting to know the characters in Gated readers start to see that cult members can come from all walks of life and are people whose vulnerabilities have been preyed upon by someone who's talented at spotting and exploiting them. I think it's too easy sometimes to label these people as mindless, when really it isn't that at all. They're just seekers looking for a place to belong and a purpose that helps make sense of their lives. I also wanted to show that dystopian societies, which have been so popular in fiction in the past few years, exist right now in groups like the one in this book.
Are you ready to delve into the Community? Then be sure to pick up your copy of Gated, online and in stores today! And to discover even more YA authors and books, head on over to our Everything Young Adult Page!