Debut Author Spotlight: Darcie Wilde On Lord of the Rakes
Thu, 02/06/2014 - 11:49am — admin
Historical fans, ready to add a new author to your must-read pile? Then let us introduce Darcie Wilde. Her debut, Lord of the Rakes, captivated RT reviewer extraordinaire Kathe Robin, who called the romance, "a lively, original and highly sensual love story." We wanted to know more about how Darcie's career got started and what readers can expect from her new romance, so we tracked her down to get some answers.
***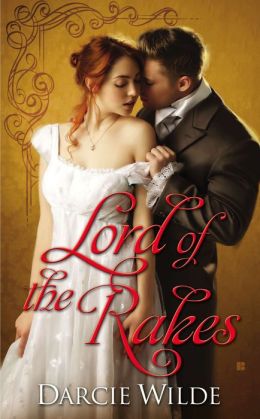 Name: Darcie Wilde
Book: Lord of the Rakes
Genre: Historical Romance
Current Home: Ypsilanti, Michigan
Author Icon: Georgette Heyer. Brilliant writer, incredible work ethic.
Favorite Word: Jabberwock
Was this the first book you ever wrote?
No. The first book I ever wrote was a very bad time travel romance called Love's Own Time. 
How did you start writing?
I wrote and drew from the time I could hold a crayon. In fourth grade, I'd collaborated with a friend on an illustrated children's book about a caterpillar. By the time I hit eight grade, I was plotting out my first seven book series.
What was it like when you got "The Call"?
The irony here was that it was one of the few times in my life I have literally been at a loss for words. My agent told me I'd been accepted and my brain went absolutely blank. After that, I think I said "yeah," a few times, and there was probably a few variations of "Wow. Sounds great." I was also very close to becoming a traffic hazard, because I was in my car at the time (sitting in a parking lot, fortunately), but I did start driving home. I was still in a daze because my brain wouldn't stop going "Oh my God! Oh my God! I'm an author now! I've authed!" Which is the sort of thing you think when all the regular words have evaporated…
What's your favorite paragraph in Lord of the Rakes?
As I enjoy stories with a sense of humor to balance the romantic intensity, it's probably this exchange:
"We'll have to move eventually," she said.
"Why?"
"I don't know. Flood, fire, act of parliament."
"Fine." He closed his eyes and let his head fall back. "If any of those things should occur, we'll move."
She laughed and kissed his shoulder. "Thank you," she breathed. "I needed you."
He swallowed, and murmured something. She felt him tense and warning threaded through her mind.
"What did you say?" She pushed herself up so she could see his face more clearly.
She watched him considering whether to lie, and then decide not to. "I only wish I had more to give you."
Where did you come up with the moniker Lord of the Rakes for your hero?
Credit for that goes to the awesome steampunk romance writer, Cindy Spencer Pape. We're members of the same writer's group, and she came up with that while we were brainstorming for the manuscript.
Want to meet Lord of the Rakes for yourself? He's available in stores and online now. And for more historical love stories, be sure to visit our Everything Romance page.