Debut Author Spotlight: Jan DeLima Talks Long Hours, The Call and Photoshopping Vampire Eyes
Mon, 09/30/2013 - 11:49am — admin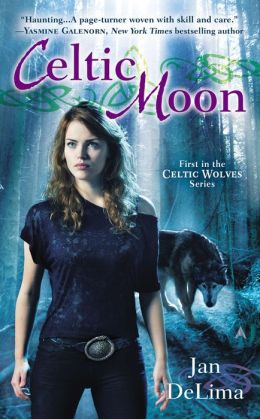 We at RT love discovering new authors to tell you about, so when Jan DeLima's debut, Celtic Moon received a 4-1/2 star review, we had to know more! (Yes, we're this nosey in our personal lives, too.) Celtic Moon is the story of Sophie, who's been on the run with her son for nearly 16 years. Only now he's showing signs of shifting, and so Sophie must return to the rustic Maine countryside and to the man she's been fleeing — but hasn't been able to forget. Luckily, Jan was very obliging and answered all of our nosey questions.
Name: Jan DeLima
Book: Celtic Moon
Genre: Urban Fantasy/Paranormal Romance
Current Home: Maine
Author Icon: Jude Deveraux immediately comes to mind for writing the first romance novel I ever read, Twin of Fire, and therefore opening a door into what would become my favorite genre.
Favorite Word: Honor
Was this the first book you ever wrote? No! I have five rejected manuscripts wrapped in caution tape that I keep in my office. It took six novels and 10 years before I sold, and many early mornings with a pot of coffee to stay awake at my day job. A good portion of Celtic Moon was written before work, from 4 to 7 a.m., and I am not a morning person, but that was the only time of day that I managed to be productive. It was all worth it though!
Caution: unpublished manuscripts
What was it like when you got "The Call"? I'm smiling even now as I write this. At the time, I was teaching a Photoshop class to teenagers in the library's computer lab where I worked. Earlier, my agent had called to tell me that two editors at Berkley had read my book and wanted the synopses for all the other books I had planned in the series. Needless to say, I was already on edge. Lunchtime passed with no call. Teens started to arrive for the class, so I tucked my phone away in my desk and went to work. Teens, by the way, are quite dangerous with Photoshop. I needed to be focused. I wasn't. They wanted to learn how to make vampire eyes on their pictures. My lesson plan covered learning the text tools. Obviously, they grew bored quickly. We took a break. I immediately checked my phone to find several messages from my agent. I knew something was up. She told me that Berkley wanted all three books. I cried in the middle of my library — good tears that come from many years of hard work to fulfill a dream. Then I asked my agent if I could actually tell people. Ten minutes later, after I called my husband, who then called our entire family, I taught a group of teenagers how to make their photos look like they had vampire eyes.
What's your favorite paragraph in Celtic Moon? "Sophie . .." His knuckles turned white around the doorknob, and the wooden door gave a groan as if too much pressure had been applied. He released his hand and stepped into the hallway. "This room is yours," he said through the open doorway, putting space between them. "I want you to feel safe here. I'll not disturb you, or come to you at night. But you need to remember that I've been 16 years without my mate. I'll do my best to keep my distance until you're ready to accept your future here ... until you're ready to accept me." His voice took on a sensual timbre, full of dark promise. "However, the next time you stare at my mouth as you've just done ... I will use it upon you."

You have some beautiful pictures on your website of the Maine wilderness. Show us your favorite.

It is beautiful! I feel very fortunate to live in Maine. Often times, I will go for a walk to absorb my surroundings and then use the scents and sounds of nature to set the atmosphere of a scene. While we don't "officially" have wolves in Maine, we do have the perfect environment. An ancient community of Celtic wolves could easily have existed unnoticed throughout the centuries.  
I will share two pictures with you. One is a waterfall in the Maine woods; the other is taken from the top of Katahdin, the highest mountain in Maine. I've circled a hiker in the bottom corner to provide some perspective of how majestic this area truly is.
A waterfall in the Maine woods
The view from Katahdin mountain, the highest mountain in Maine
If you're as interested as we are, Celtic Moon is available now in stores and online. And for more spooky stories, be sure to visit our Everything Paranormal page!