Debut Author Spotlight: Kira Brady
Thu, 08/09/2012 - 10:47am — admin
Name: Kira Brady
Book: Hearts of Darkness
Genre: Paranormal Romance
Current Home: Seattle, WA
Job (when not writing): I play zoo tour guide, craft diva, and storybook queen for my two year old heroine-in-training. 
Author Icons: Meljean Brook and Ilona Andrews. I love their world building, action-adventure plots, and delicious love stories.
What was it like writing Hearts of Darkness? What was the easiest part? The most difficult? 
When I wrote Hearts of Darkness, I had neither child nor day job. I spent most of my time frolicking, reading every book I could get my hands on, and traveling the world with my globetrotting husband. Discipline was the hardest part! I also hadn't figured out that I'm a plotter, not a pantser. I threw out a lot of extra scenes that didn't fit into the final book. I have less time now, but I'm a lot more efficient about how I work.
Your story is set in the Land of the Dead. Can you describe this area? Also, what makes Seattle the perfect place to set the Gate of the Land of the Dead? 
Hearts of Darkness is my morbid love letter to my beloved native city. I've kept all my favorite landmarks, just made the ghost stories and legends real. The book is set in the Land of the Living, but demons and wraiths wait to cross through the cracked Gate to the Land of the Dead. The Gate between worlds and the ghost-drenched streets of Seattle were inspired by a quote from Chief Seattle that I use at the beginning of the book:
"These shores will swarm with the invisible dead of my tribe. The White Men will never be alone. Let him be kind and just to my People, for the Dead are not powerless. Dead, did I say? There is no death. Only a Change of Worlds."
Was there anything from the real Seattle that you carried over to keep the feel of the city alive (perhaps a favorite landmark that you love)?
Pike Place Market, the Seattle Underground, the historic landmark Butterworth Mortuary, Gas Works Park, the Olympic Sculpture Park, and the Scandinavian neighborhood of Ballard are all real. I've taken some liberties with geography, but the Deadglass Seattle is simply a gothic, gritty, dilapidated reflection of the real city.
We can't help but notice that your heroine, Kayla, takes the same route you did — living in Philadelphia and then moving to Seattle. Do you and Kayla share any other similarities?
I value a down-to-earth, no nonsense attitude, but I'm much more imaginative than Kayla. She really has trouble believing in anything she can't see with her own eyes. We're alike in that we're both good girls, but she's a lot braver than I am. I'm afraid of ghosts, zombies, and large flocks of evil, eye-pecking crows. She's not, but then maybe that's because she doesn't believe in them. Would I run back to Philadelphia if faced with a pack of gun-toting shape-shifters? That's the kind of question I'd have to answer once my back is against the wall. :)
Kayla is a nurse — a student of science and cold hard facts. How does she react to the paranormal world? Is it totally outside of her comfort zone, and how well does she adjust?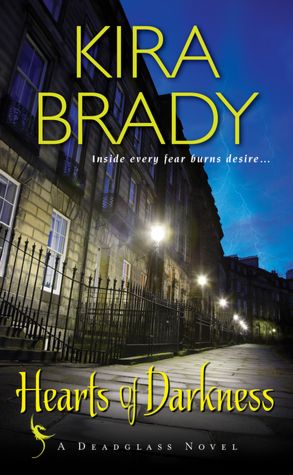 She is completely blindsided by the paranormal world. If she could describe her own personal hell, it would be exactly how she finds herself at the beginning of the book: her last family is dead and there are suddenly shape-shifters, gun-toting madmen, and illogical spirits jumping out of the woodwork. I think she adjusts pretty quickly considering her starting place. Her life has been completely turned upside down, but instead of running, she stays to get the job done that needs to be done.
The hero, Hart, is a mercenary werewolf who has set out to seduce Kayla to get what he needs — a key to free his imprisoned soul from the Land of the Dead. Why did you choose to make him a wolf — why not a vampire, gargoyle or other paranormal creature?
I stuck with the local mythologies from Seattle, which are the Giant Animal shape-shifters of the Pacific Northwest Native Americans and the Norse dragons of the Scandinavians who settled much of the city. The wolf is a major player in local Native American myth (a la Stephanie Meyer's Quileute legends), and I've always loved werewolf stories. Though Hart is a lone wolf, I'm quite fond of werewolves' strong desire for pack and family.
As the writer, what made you fall in love with Hart?
He's a gruff anti-hero who can't help but fall in love with Kayla. Though he fights it, he looks out for her even though it's against his best interests. I love a bad boy romance hero; they fall hard.
What's one of the bumps that Kayla and Hart transverse on their way to true love? What's one of the things that's hardest for her to adjust to about her werewolf?
They're running for their lives through much of the story, which makes it hard to sit down and get to know each other over a cup of coffee. Instead, they are forced to rely on each other while bullets are flying, and they get to know each other intimately in a very short amount of time. Hart has a very different worldview and communication style from Kayla--he holds secrets, relies on his instincts, and doesn't play fair--but she finds that he has the same loyal heart buried underneath.
This is just the first book in the series, but you also have a prequel. What can you tell us about it?
"Hearts of Fire" is the prequel novella, which is out now. It's set during the Great Seattle Fire in 1889 and is the impetus for the Kivati-Drekar war that decimates Seattle over the next century and a quarter.
What can readers expect next?
Hearts of Darkness (Aug 2012) is the first book in the trilogy, Hearts of Shadow (May 2013) is the second, and Hearts of Chaos (Feb 2014) is the third. In Hearts of Shadow, zombie hunter Grace Mercer must team up with Drekar Leif Asgard, the last man on earth she'd ever willingly join, in order to stop the demigod Kingu from ravaging the city and resurrecting Tiamat, the Babylonian Goddess of Chaos.
Do you have more questions about Kira Brady and her writing process? If so, let her know in the comments below. And be sure to stop by RT's Everything Paranormal & Urban Fantasy Page for more genre coverage!