Debut Author Spotlight: Melissa Cutler - With Giveaway!
Wed, 10/17/2012 - 10:14am — admin
Name: Melissa Cutler
Book: The Trouble with Cowboys

Genre: Contemporary Romance
Current Home: San Diego, CA
Job (when not writing): I write full time and love every minute of it.
Author Icons: Susan Mallory, David Sedaris
What were some of the easy parts of writing The Trouble with Cowboys and what was more difficult?
This might seem counterintuitive to some readers, but the parts that flow the easiest for me are the gritty, messy emotional scenes, the ones that get to the heart of the characters' fears and desires. These scenes come from such a deep place inside me that the best way to write them is to not overthink them, but get in "the zone". There are two scenes in The Trouble with Cowboys that I sobbed through the writing of them. This happens to me during the writing of every book, and when it does, I know I've truly tapped the source—that place of raw, authentic emotion for both the characters' and myself.
The most challenging part of a book for me to write is the ending. I put a lot of pressure on myself to nail it and leave readers with that delicious, mushy, gushy feeling I love to get when I finish reading a great romance.
We would love to hear more about The Trouble with Cowboys' rural New Mexico setting. Could the story have taken place anywhere else?
Both as a traveler and as a writer, I am drawn to places in the world that haven't succumbed to tourism or big city development. I also love the desert, and you might notice that both my fall releases take place in off-the-beaten-path desert towns (my November Harlequin Romantic Suspense, Seduction Under Fire, takes place in La Paz, Mexico). I love the stark beauty of the desert and the idea that because of its harsh environmental conditions, the people, animals, and plants that call the desert home must be scrappers with a strong sense of self-preservation, adaptability, and ingenuity.
The Trouble with Cowboys could not have taken place anywhere but New Mexico. New Mexico is vastly different from Texas, even though they share a border. There is an artistic, free-spirit element to New Mexico that I find enchanting. It's no coincidence Frieda Kahlo called Santa Fe home, nor that the state houses some of the country's most unique artistic communities and artisianal foods. Kitschy, historical Route 66 runs through Quay County, in Eastern New Mexico, an area of the country made extra unique because it is ranch country set atop a huge oil deposit that rivals those in Texas. Plenty of juicy writing potential for my Catcher Creek series!
Heroine Amy is a chef. What are some of her favorite dishes to make and what does this say about her personality?
What a great question! Amy is a classically trained French chef, but what she most enjoys is the challenge of creating dishes using local, seasonal ingredients. This requires her to think on her feet and be flexible, since local produce can be really unpredictable. Her attraction to thinking flexibly and being creative were qualities that made her such an excellent contestant on Ultimate Chef Showdown, the cooking competition television show she participated in before The Trouble with Cowboys begins.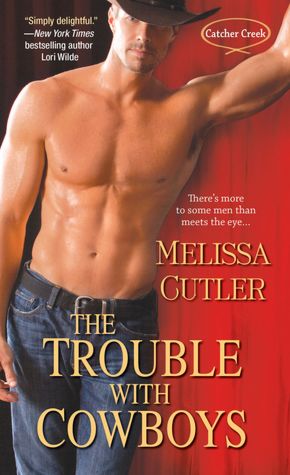 Amy is described by RT reviewer Melanie as 'quirky'. When you were crafting this character, did you do this on purpose? What are some of Amy's most unique and distinctive characteristics?
I absolutely made Amy quirky on purpose and I'm so glad that came through during Melanie's reading. My goal was to create a heroine who reflected the women I personally know (and am)—funny, smart, passionate, and flawed in ways that aren't necessarily sweet or endearing. The message I want to send to woman is be yourself and only accept men in your life who will love you for who you really are, flaws and all.
I'm terribly fond of all Amy's quirks, but some of the most unique are: she dices celery for stress relief, she has a list of six rules that she tries to live her life by—number one being "steer clear of cowboys"—and she drives way too fast. Of course, she also has a die-hard attraction to everything cowboy related to the point that it's almost a sexual fetish. But hey, we've all got some secret turn-on, right? Some people are turned on by leather, others by bondage play (ahem, Fifty Shades), and the list goes on. Amy is aroused by cowboys —and I don't blame her…they're smokin' hot.
Hero Kellan is a rancher. Did he always know that this is what he wanted to do or has there ever been a time when he has thought about giving up his cowboy ways?
This is a very interesting question that will be answered during the book. Let's just say there's more to Kellan and his history than meets the eye.
In your opinion are cowboys all trouble? What makes Kellan worth the work?
In my opinion, cowboys are no trouble at all, and I consider it my good fortune to spend my days writing and imagining them. But for Amy, with her cowboy attraction and series of terrible cowboy-related experiences, you better believe they're nothing but trouble. Lucky for her, she'll come to realize by the end of the book that true love is always worth the trouble.
Your book introduces Amy's sisters. Will any of the other Sorentino ladies be getting their happily-ever-afters?
I cannot wait to share Rachel and Jenna's stories with readers! The title of Catcher Creek Book 2 (a 2013 release) isn't set yet, but I can tell you it involves one of the sexiest scenes I've ever written and two star-crossed lovers who go through hell and back before realizing that they've had their own personal heaven right in front of them the whole time. Book 3 is another wild ride with too many secrets to count, revenge, a baby daddy's surprise return, and a wedding from hell. The best way to keep up with my new releases is to subscribe to the free newsletter I send out twice a month. You can sign up on at www.melissacutler.net.
My thanks to RT for hosting me today. I love hearing from readers and am really easy to find on Facebook and Twitter (@m_cutler). And you can always email me at cutlermail@yahoo.com.
***
GIVEAWAY ALERT: In The Trouble with Cowboys, chef Amy's favorite form of stress relief is dicing celery. When Melissa is stressed out, she loves to take a walk or sip a glass of wine. We want to know what's your favorite way to relieve the stress of your day-to-day life. Answer in the comments below or e-mail your response here with the subject "Melissa Cutler Giveaway," along with your mailing address and you will be entered to win a copy of The Trouble with Cowboys. The winner will be announced October 24. U.S. addresses only please.
BLOG UPDATE: The winner is Marsha Alford
Do you have more questions about Melissa Cutler and her writing process? If so, leave a comment. And be sure to stop by RT's Everything Romance Page for more genre coverage!