Debut Author Spotlight: Rowan Keats
Wed, 11/06/2013 - 10:25am — admin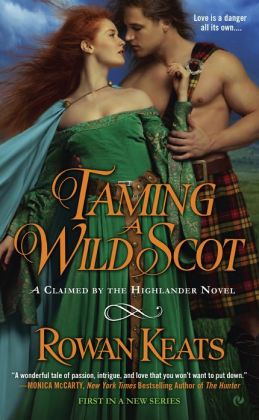 There are certain words that catch our eye when a review comes into the RT office. Things like "4-1/2 star," "Medieval" and "debut author" are some of them. So when all three of those phrases ended up in the review of Rowan Keats' Taming a Wild Scot, the story of Ana, an imprisoned healer, and her savior — who soon enough needs saving himself, we had to know more. 
Name: Rowan Keats
Debut Book: Taming a Wild Scot
Genre: Scottish Historical Romance
Current Home: Ottawa, Ontario, Canada
Favorite word: Bampot. It's an old Scots word meaning fool. I just love the sound of it.
How did you start writing? I don't recall when I started. It feels like I've always been stringing words together in some form of story. Early on, I wrote just for myself. Then I joined my local chapter of the Romance Writers of America, saw what was possible, and my dream grew to include publication.
Was this the first book you ever wrote? Oh my, no. I've lost count of the manuscripts I've written — most of which will never see the world outside my computer. Each manuscript taught me important lessons in how to write, so they've served their purpose.
What was it like when you got "The Call"? I was at a low point in my writing career, really wondering if I was cut out to be a writer. The offer felt like an arrow out of the blue — completely unexpected. I cried. And then I danced. And then I texted everyone I could think of.
Did you know that Taming a Wild Scot was the book that would get you published, or were you surprised by its success? I had no idea this would be the book that sold, but I loved the characters right from the beginning. Ana is so brave and determined, and Niall — well, Niall made me sigh every time he stepped into a scene. Characters that come alive and leap off the page are what every writer hopes for.
What's your favorite paragraph in Taming a Wild Scot? "Niall tossed Leod's sword into a hay pile, grabbed Ana by the elbows, and yanked her to his chest. Then he kissed her, hard and hot and long. He didn't stop kissing her until all the anxiety that had twisted his gut since he first heard her scream had eased from his body."
We know, we know! So good. Luckily, Taming a Wild Scot is on sale in stores and online now. And for more sumptuous love stories, visit our Everything Romance page!