December Trendlet: Historicals with a Side of Woo Woo!
Tue, 12/17/2013 - 11:07am — admin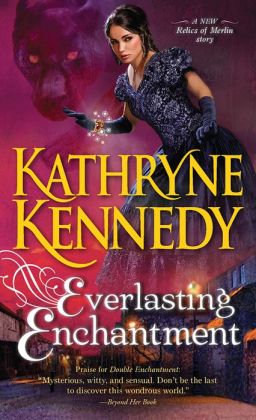 Let's face it, part of the reason we all love romances so much is the escape the provide from reality. We mean, we don't know how many billionaires sweep you off your feet, but our regular lives are a little less enchanting. Which is why this December trendlet of historical paranormal romance caught our attention: a romance, set in the past, with magic? That's like three levels of remove from reality! And when we discovered that all three of these titles received RT Top Pick! ratings as well as RT award nominations, well, we knew they were just what we need during this busy holiday season. Check them out …
Everlasting Enchantment by Katrhryne Kennedy
This Victorian England-set series fourth stars shapeshifting were-panther Millicent, and really, we feel like this should be all we have to tell you to get you interested. But there's also a Duke! And the search for a relic of Merlin's — a relic that will allow the wearer one night of unbelievable passion. RT's Kathe Robin calls this one "marvelous" and "incredible," but you're already looking for a copy, aren't you?
Shadowdance by Kristen Callihan
Callihan's Darkest London series is great fun, and her fourth title is no exception. It's a Victorian England-set workplace romance, where Mary's an agent for the Society for the Suppression of Supernaturals, and Jack is a talented shapeshifter. Kathe tells us to "prepare to be awestruck." And we always listen to Kathe. 
Legend of the Highland Dragon by Isabel Cooper
We're back in Victorian England, this time with the wonderful setup of a high-paid secretary falling for her boss — except her boss is a dragon shapeshifter. There's also a killer on the loose and a quest for revenge. Kathe tells us this one is "a book to read again and keep forever." We're sold! 
Are you ready for a magical trip to the past? All three of these titles are available now! And for more love stories, visit our Everything Romance page!