Deeanne Gist Gives Back with 2 Who Care: You Could Win $1,000!
Tue, 03/04/2014 - 1:28pm — admin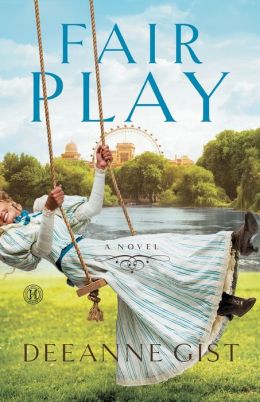 Authors writing awesome books and giving back to the community, is there anything better? We sure don't think so! Deeanne Gist is one such do gooder, and she's sponsoring a great contest we just have to tell you about. 
Inspired by her upcoming May novel, Fair Play, which stars a Texas Ranger and a woman doctor who find love and intrigue at the 1893 Chicago World's Fair, Deeanne decided she wanted to honor modern couples who are giving back to their communities. 
So she started the 2 Who Care contest, to award one volunteer couple in the U.S. $1,000 for what they're doing to improve their community. Here's what she had to say about the contest entries that have been streaming in so far:
"I knew there were couples out there making in a difference in their communities, but knowing something and learning about it firsthand are two very different things. There's a mom and dad who decided to provide free lunches to everyone in their community on certain days each summer. They've now served more than 2,000 lunches!
Another couple makes Easter baskets for the children in their town who have yet to receive a visit from the Easter Bunny, and they package up toiletries for homeless women. Can you imagine how much those items mean to the recipients?
Another couple, both of whom are social workers, bring home the children they can't place. And the list goes on and on. I'm so glad I'm not going to have to make the final decision. That will rest with you, my readers. And though we will only be able to award one couple the $1,000 grant, I have a sneaking suspicion that all the couples in this contest will receive a much greater reward from Someone with a lot more to give than me!"
If you, or someone you know, is part of such a do-gooding couple, then you must enter, and be sure to tell us if you win! Here are the details you need:
To enter, just go to the 2 Who Care app on Dee's Facebook page here (or click on the image below). Click the "Like" button at the top of the page and fill out the form toward the bottom of the page. For more information, visit Deeanne's website, www.IWantHerBook.com.
Deadline for nominating a couple is Tuesday, April 1, 2014. Deeanne will select 10 finalists, and readers will choose the winning couple by popular vote on her Facebook page. The deadline for voting will be Tuesday, May 6, at 12 p.m. ET. In addition to awarding the winning couple a $1,000 grant, Gist will send certificates of appreciation to the other finalists, along with a copy of Fair Play, and her first book in her World's Fair series, It Happened at the Fair. Fair Play releases on May 6, so be sure to mark your calendars!