Deeanne Gist Visits The 1893 Chicago World's Fair In Her Latest Novel - With Giveaway
Thu, 05/09/2013 - 2:10pm — admin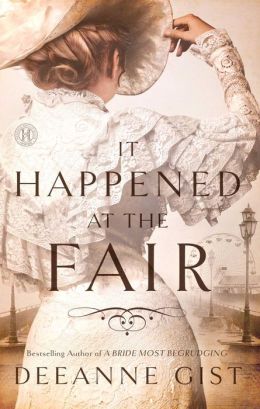 Never before or since has there been quite the extravaganza as at the 1893 Chicago World's Fair. This amazing event has gone down in history — both for exhibiting groundbreaking innovations as well as offering a snapshot at American life during the late 19th century. In her latest novel It Happened At The Fair, author Deeanne Gist brings this historical event to life. This inspirational novel follows a man who risks everything to travel to the World's Fair to sell his invention. But with the hustle and bustle of the crowds, he requires the help of a lip reading schoolteacher to guide him through the chaos. Today the author shares what she learned about the Fair and how she incorporated her research into her story. After hearing from the author, if you would like to be entered into a giveaway for It Happened At The Fair, leave a comment at end of of this post. 
The 1893 Chicago World's Fair — known for wow-ing the world with its monstrous white palaces, scientific innovations, and towering Ferris Wheel — had an ongoing how-to-be-a-good-housewife exhibit with little girls. No lie. It equipped their young protégés with spotless white pinafores, white mop caps, and miniature furniture to clean — all while spectators wandered in and out to observe this "Kitchen Garden" in the Children's Building.
Around the room were miniature brooms and miniature chairs, dishes of all kinds, washtubs and boards, and scrubbing brushes. One section of the room held a row of tiny little beds which had been all mussed up. With a little girl on each side, they flipped the mattresses and punched them into softness. They spread the sheets, blankets and spreads — all with hems turned the proper way. Then they tucked in the corners with exacting precision.
One newspaper said, "When the pillow slips were put on and the shams put up, half the people who watched wished they were small enough to get into the beds and take a sleep."
Can you imagine? But that wasn't all. While the beds were being made, other little girls swept the room. Not a quick swish-swish in the middle of the floor, but with vigorous effort in the corners "in a way which, if it is carried into later life, will cause some man to call them blessed." Ha.
Other girls got down on their knees and scrubbed. Some went to the washtubs and, with sleeves rolled up over delicate little arms, rubbed dirty doll clothes against their boards until the garments turned snowy white.
And so my research for It Happened at the Fair went. One exhibit would present a piece of equipment on the cutting edge of technology (Edison's 82-foot Tower of Light), while another exhibit would put up an archaic offering like housewife lessons. But no matter where on the spectrum the exhibit rested, all were fascinating.
Journey back in time to the 1893 Chicago World's Fair with Cullen McNamara who exhibits his latest invention in Machinery Palace. Unfortunately, the cacophony of machines is so loud, he can't communicate with any interested parties. In desperation he hires a teacher of the deaf (Della) to tutor him in the art of lip reading. He fights an instant attraction which flares up between them because he not only has big plans for his future, but he also has a girl back home. Della Wentworth could ruin everything.
- Deeanne Gist
GIVEAWAY ALERT: One lucky reader has the opportunity to win an autographed copy of It Happened at the Fair. To enter, leave a comment telling us which 19th century historical event you wish you could experience. You can also e-mail your response here along with your mailing address. A winner will be announced May 16. U.S. addresses only, please.
You can pick up a copy of It Happened at the Fair, available now. For more genre news and coverage visit our Everything Inspirational Page.