From Digital To Print To TV: Lisa Renee Jones On The Evolution Of Her Inside Out Trilogy - With Giveaway!
Wed, 03/20/2013 - 11:13am — admin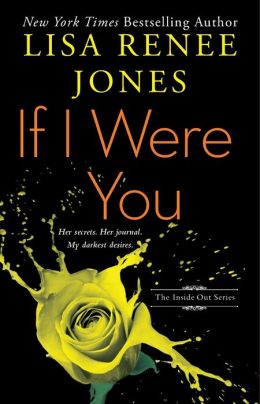 Big news for romance author Lisa Renee Jones. The author's erotic Inside Out trilogy, which was originally self-published and then acquired by Simon & Schuster, has been optioned for television! The series features a high school English teacher who discovers a secret journal that not only titillates, but inspires her to spice up her own sex life. Today the author shares her real-life journal discovery behind the story, and how the TV rights to the tale were acquired by STARZ! Plus, the author offers a giveaway of a pre-order for the second in her trilogy, Being Me.
Back in Austin, Texas my fiancé Diego was going to school while I had left the corporate world behind. The physical therapy clinic he was a PT at had gone under and we both knew to chase our dreams, his to be a doctor and me to keep writing, we had to find another way to make money. Keep in mind this was YEARS before the Storage War type shows. So, I stumbled onto an article about buying and selling storage auctions. Diego decided to go for it and so it began for us …
Diego bought a unit and I just knew he paid too much. I was furious. We were broke. How could he spend that kind of money? Oh yes. We had a battle. It was an icy afternoon at our house. Well, he was right and I was wrong. Turns out we netted great money from that unit in two weeks. We were lucky and we needed that money desperately at the time. All units are not that good though and surely not that good that fast. Needless to say, he was hooked and we dug into the biz. Thus the joys of leaving a corporate CEO job like I did to chase a dream. And it's dirty work these storage units. Really dirty. You go through these units and find disgusting things and try to figure out what is worth money. Well, we ended up with our house and garage filled to the rim constantly.
One unit came along when Diego was feeling sick. So he stumbled onto a journal in a box and snuggled onto the couch while I was writing. From there it was pretty funny. He'd sit up suddenly and say "Someone died next door and the police are there!" Then later, "Oh my God, she's pregnant again." We did a lot of laughing. Well, Diego decided I HAD to write a story about a storage unit with a mystery. He bugged me for YEARS to do it. Finally I wrote a proposal. The proposal was loved by one of my editors but her boss had to read it. It took a year and though her boss liked it — the line it would fit was closing. So that left me with a decision. What to do? I ended up talking to a couple of editors I knew and one who I quite like a lot offered me a deal. I really felt I clicked with this editor but … it didn't feel like the right deal. There were changes talked about and despite a very fast release date I just didn't feel good about the changes. Indie has been kind to me and I felt I had a good grip on how to reach out to readers and share with them a story that was special to me. So that's how it became self-published. I dared to say — I'm going on my own.
From there I sought out an agent who had a strong foreign rights department to help me sell those rights. Louise Fury read the story and immediately asked if she could take it to some top people in publishing. I agreed but I'd planned an August 24th release and advertised and spent money on promotion. We agreed I'd go ahead and release. Before I did we had interest but the deal wasn't closed as we had numerous publishers involved. So I released on my own August 24th and the talks with multiple houses continued. We closed verbally ten days after release and they took over not long after that. 
Louise had already gotten the book to the film/TV agent, Shari Smiley, so that process moved quickly since she also really was (is) behind the series. We then had movie interest that went far enough to have talks with producers but the STARZ deal obvious took over as the deal that worked for this series. Had I not believed in myself and taken that first deal I do not believe I would have ended up where I am now. The changes would have changes what it is that STARZ likes about the series. I can also say that having an agent passionate about this project made all the difference in the world. My advice to writers if find that shared passion with an agent and find an agent who is ambitious and savvy. 
And there you have it. The story behind the story!
- Lisa Renee Jones
GIVEAWAY ALERT: We're giving away two pre-order copies of Being Me, one print and one digital. To enter, comment on this post telling us what you would do if you found someone else's journal. Would you read it? You can also e-mail your response here, along with the subject "Lisa Renee Jones Giveaway" and your mailing address (if you'd like to win a print copy). Winners will be announced March 27. 
BLOG UPDATE: The winners are Donnamcenstrom and Bea Romero.
You can pick up a copy of If I Were You, available in stores now. Want to try before you buy? Read an excerpt here. And make sure to check out Inside Out book two, Being Me, available for pre-order now. For more genre news and coverage visit our Everything Erotica Page.