Donna Fletcher Introduces Readers To Her Painted Heroine
Tue, 12/18/2012 - 10:48am — admin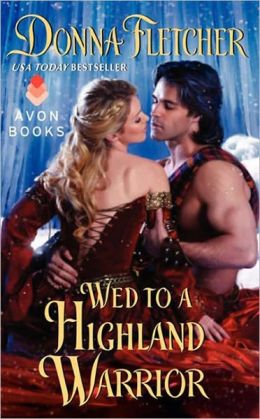 Plotting characters in historical romance doesn't just mean fabricating a fictional person, but can often involve a great deal of research in order to ensure that the character feels authentic. In Donna Fletcher's latest Scottish-set historical love story, Wed To A Highlander, heroine Bliss is a special woman who belongs to a group of Celtic people called the Picts. Today the author shares with readers how she combined thorough research and timeless romantic elements to create a delightful love story about a healer woman who finds herself coming to the aid of a soldier in a most unexpected way — by pretending to be his wife!
My characters always challenge me and it was no different with a recent heroine in my book Wed To A Highland Warrior. An unexpected bride to one of the four Highland warriors in my Warrior King series, Bliss turned out to be not just any Highlander's bride... but a Pict.
The Picts—the painted people—fascinated me when I first learned about them several years ago. There is various research available on them, though some is more speculation than fact. So when it came time to write about Bliss I combined my research, pulling together bits and pieces and forming what I imagined a Pict woman would be like. And to add to that I made her a Pict healer.
So let me tell you a little something about Bliss. She is a special woman raised by her maternal grandmother, a healer herself. She proudly bears the art on her skin that reflects her heritage. While her community is one of farmers, hunters, and warriors, she stands apart because of her skills and is much admired and sometimes feared. After all, she heals the sick and is familiar with the ways of nature.
Gossiping tongues often talk about Bliss's unusual ways. While the village women forage together in the woods for plants, Bliss journeys alone and without fear into the woods and when she returns she brings news of storms or blizzards or if planting should be delayed. But then Bliss was taught at a young age to listen to what nature had to say and trust in it, for it had much to teach her. 
Bliss thinks nothing of going on a journey alone whether it is because instincts instruct her to do so or to help someone in need. And she can always count on Pict warriors for help, though she might not see them, since they're good at blending in with their surroundings and are rarely detected.
Life as a Pict is not easy since they are considered pagans, their beliefs far different than others. But their survival depends on their connection to the land for it sustains them. And they depend on their healer for she, more than anyone, understands the ways of nature and the unknown.
Bliss is a woman born of a confident and instinctive nature, with pride in her heritage and a knowledge she generously shares. Her door is always open to her people as is her heart. Her day is busy, always starting it off with a walk in the woods, then seeing to those in need of healing, or seeking solitude in a nearby cave that has a lovely underground water spring where she bathes or going off on an unexpected journey.
Bliss was a special character to me and I so enjoyed writing her story and bringing the Pict people to life.
- Donna Fletcher
You can pick up a copy of Wed To A Highlander, available in stores now! For more historical romance visit our Everything Romance Page.