Dorothy St. James On Creating Complete Cozy Characters
Tue, 05/03/2011 - 11:53am — admin
Aspiring authors, how do you keep your cozy characters sane as they stumble over corpse after corpse? And how does a character go from unlucky body-finder to eagle eyed amateur sleuth? It is a daunting prospect but you aren't on your own with these dilemmas. Today cozy author Dorothy St. James (aka Dorothy McFalls) shares some of the tricks of the trade that she learned from four fellow mystery authors!
"If Jessica Fletcher walks into a room, run! Someone is about to be murdered, and you sure as heck don't want it to be you."
Growing up, this was a running joke in my family.
The idea that an amateur sleuth/mystery novelist would become involved with a murder investigation week after week grew all the more unbelievable with each season of Murder She Wrote until one night my dad exclaimed that Jessica Fletcher was a serial killer who cleverly framed scores of innocent dupes.
When I set out to write my first mystery series (the White House Gardener Mysteries) from Berkley Prime Crime, that family joke came back to haunt me. As much as I love the Murder She Wrote series, I wanted to create characters and situations that would cause the reader to shake her head and say, "I can totally see that happening."
My heroine, Casey Calhoun, a free-spirited organic gardener from Charleston, South Carolina takes Washington D.C. by storm. She knows exactly how to transform the White House lawn and gardens into an organic showpiece. Unfortunately, like nearly all things in Washington, her well thought out plans hit a snag after she stumbles across a murdered Treasury Department employee in a nearby public park.
Even though my sleuth and basic outline of the story had already been decided, I still had to tackle the challenge of making the plot resonate with the reader. So in an effort to do just that and make Casey a believable amateur sleuth, I spoke with four successful mystery/suspense authors to get their advice on the matter.
The Authors
Melissa Borbon/Misa Ramirez – Author of the Magical Dressmaking Mystery Series from NAL. Melissa has published more than half a dozen mystery and suspense novels and is co-author of The Tricked Out Toolbox. You can find her online at www.MisaRamirez.com
Jacklyn Brady/Sherry Lewis – Author of the A Piece of Cake Mystery Series from Berkley Prime Crime. Jacklyn is author of nearly 30 romance and mystery novels. You can find her online at http://jacklynbrady.blogspot.com/
Julie Hyzy-Author of the Manor House Mystery Series from Berkley Prime Crime. Julie is author of 10 mystery/suspense novels. You can find her online at www.JulieHyzy.com
CJ Lyons-Author of the Angel of Mercy Suspense Series from Berkley Publishing. CJ is author of 14 suspense, thriller and mystery novels including a new series written with Erin Brokovich. You can find her online at http://cjlyons.net/
Here are four points these amazing authors told me to consider:
1) Location
Have the sleuth living or working in the same vicinity as where the crime takes place. Your amateur sleuth must investigate because she's the only one there and can't leave, suggested CJ Lyons (Critical Condition, 11/2010.) She goes on to explain: "I used this technique in Critical Condition which is basically Die Hard in a hospital during a blizzard—so the amateur sleuths trapped by the bad guys in the hospital had no choice but to take matters in their own hands. Hostage situations, stranded by the weather or in an area where police can't physically travel to (like a desert island) are other examples of ways to use this mechanism."
2) Situation
Jacklyn Brady (A Sheetcake Named Desire 08/2011) explains that when she writes she tries to put her character's back against the wall, forcing her amateur sleuth to act. "I try to create situations in which s/he believes that the police are on the wrong track in their investigation, or the police aren't investigating at all for some reason, such as a closed case."
"Conflict drives crime, and my protagonists are always in the middle of conflict," adds Julie Hyzy (Buffalo West Wing 01/2011 and Grace Interrupted 06/2011).
3) Personal Involvement
Another technique for involving a character in an investigation is to give her a personal stake in the outcome. Jacklyn Brady explains how she does this: "Sometimes the police are investigating but the protagonist is in danger, either because the police believe she's guilty or because there's some outside threat to her safety. Or maybe I'll put someone s/he cares deeply about at risk, either by killing off a close friend or relative or by making that friend or relative appear guilty of the crime. Whatever it is, investigating the murder on her own must be less frightening and painful than ignoring the situation and leaving it for someone else to handle. That's the only way I've found to keep the protagonist involved when the going gets really rough."
CJ Lyons uses this technique as well. "Give your amateur sleuth friends who either get into trouble and can't go to the police (like a friendly crook or illegal alien) forcing them to turn to your sleuth for help, or give your sleuth friends in investigative type jobs (law enforcement, lawyers, PIs, journalists) who sometimes need to bend the rules—but make sure you give them very credible reasons to bend those rules," suggested CJ.
4) Personality
"Both my protagonists - Ollie Paras and Grace Wheaton - are extremely curious and determined women. Both also work in large establishments where heads of state (White House) and thousands of tourists (Marshfield Manor) constantly stream through. The more people you crowd into one place, the more chance for conflict and though Ollie is a lot more confident than Grace is at this point, both feel strongly about standing up for those who need help," offered Julie Hyzy.
Finally, it's a cozy mystery. "People who read cozy mysteries, or any type of amateur sleuth mystery, expect murder to happen. There's a certain element of acceptance of the proclivity for murder in these types of books. I also think readers are able to suspend disbelief because they have expectations about what they're going to encounter," explained Melissa Bourbon (Pleating for Mercy 08/2011) When dealing with an amateur sleuth constantly encountering murder in her life, Melissa faces it head on. "For example, in the second book in my Magical Dressmaking mystery series, Harlow Cassidy gets wrapped up in the murder of a golf pro at the country club. The setting is slightly removed from her doorstep (where the murder in book one occurred), so that helps. She is as floored by the second murder as the rest of the town, and as the readers might be, and she says as much."
"As with every major character decision a solid motivation is the key—and don't forget to have fun with it!" said CJ Lyons.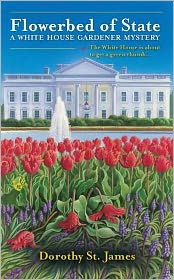 That's what I did. I had fun writing Flowerbed of State (May 2011), throwing in quirky characters and enough twists and turns to keep me on my toes. My heroine, Casey Calhoun has her back against the wall, a personal investment in whether or not the killer is caught, and has a big enough personality to dive in and start to ask the questions the police are ignoring. In the end, she has no choice but to pursue the killer despite the risk to her own safety. If she doesn't, the dream life she's found in Washington, D.C. will end before it really has a chance to begin.
I hope if you pick up a copy of Flowerbed of State you'll agree.
- Dorothy St. James
You can see how Dorothy St. James used these authors' advice in her new novel, Flowerbed of State, which hits stores today.  For more aspiring author advice, be sure to check out our bi-weekly Writes & Wrongs column penned by best-selling author Shiloh Walker!