E-Sale: Candice Hern's Historical Romances
Wed, 05/29/2013 - 10:12am — admin
We are loving the digital revolution with opportunities to fill our e-shelves with affordable favorite reads. Every Thursday we bring you the Cheaper by the Dozen column listing the best weekly deals, and today we have some additional titles from a fan favorite author. Currently, historical romance author Candice Hern is offering many of her re-released titles for only $2.99 (or less!) each. So if you love a good Regency love story in the vein of Georgette Heyer, grab these digital deals for both Kindle and Nook!

***
In The Best Intentions, Miles Prescott, the widowed Earl of Strickland, has no intention of re-marrying for love, no matter what matchmaking schemes his sister hatches. So when she announces her forthcoming visit to his country estate in the company of a young debutante and her widowed sister, he is quick to make his position clear. His new guests, however, are not at all what he expects. It is the widowed Lady Abingdon who is the society beauty, while Miss Hannah Fairbanks has far better things to do with her time. Architecture fascinates her, especially old architecture like that of the ancient Saxon church near the earls estate. And now the earl finds himself on the horns of a dilemma will he choose the suitable widow or follow his heart?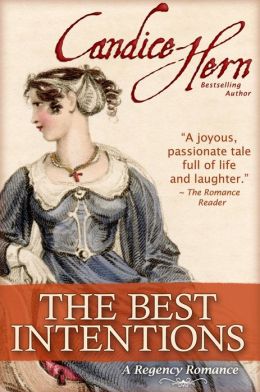 Purchase for $2.99 from Amazon or Barnes & Noble
In A Garden Folly, The Duke of Carlisle absolutely hates house parties and all the toadying to his exalted position that inevitably accompanies any foray into society. More than anything he despises the husband-hunting young ladies who care only for his title and fortune. So when his mother decides to hold a month-long gathering at his beloved estate, he impulsively decides to be "not at home" for the festivities. For Miss Catherine Forsythe and her lovely sister Susannah, the invitation to the duchess' houseparty is a real godsend. Teetering on the edge of genteel poverty, they have just about come to the end of their rope. Now, however, they have a chance to find eligible suitors and escape the dreadful fate that awaits them. But best laid plans go immediately awry, and Catherine finds herself increasingly torn between the safety of a convenient union with a widowed earl and the searing passion she feels for the infuriating man seemingly in charge of his grace's incomparable gardens.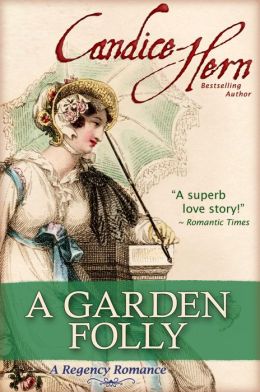 Purchase for $2.99 from Amazon or Barnes & Noble
When mousy Rosie Lacey believes she is dying, she journeys to London to live with her notorious Aunt Fanny in Miss Lacey's Last Fling. Once there, she creates for herself the character of Rosalind, a beautiful, self-confident and wild young woman, determined to taste life. Max Davenport, on the other hand, has long since tired of the social whirl and finds little to cure his ennui. That is, until the arrival of a certain young woman, whose frank delight in life has him seeing the world with new eyes.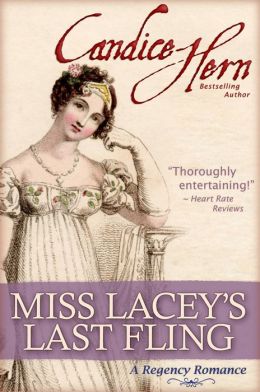 Purchase for 99 cents from Amazon or Barnes & Noble
Jack Raeburn, Marquess of Pemerton, is in need of a wife. What better way to acquire respectability, mend the family fortunes and get an heir? As the newly elevated head of his family, he has responsibilities now. To that end, he lurks in the most exclusive ballrooms, looking over the current crop of debutantes, only to hear a little voice ruthlessly cataloguing their various faults. The little voice belongs to Lady Mary Haviland, the spinster daughter of a recently deceased eccentric earl, who has herself just recently appeared upon the London scene. Bemusedly accepting her offer to help him find a suitable bride, Jack finds himself more and more interested in his spirited new friend. Can Lady Mary accept his proposal of a marriage of convenience? Or will the dark secrets of her past prevent the two unexpected lovers from finding the happiness they deserve? Find out in A Change of Heart.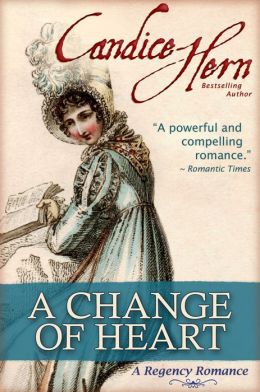 Purchase for $2.99 from Amazon or Barnes & Noble
Regency connoisseurs will hail the stylish debut of Candice Hern, a striking new talent of superior merit under the Jove Aegis. A Proper Companion of a dowager countess is reluctantly drawn into the social whirl when her elderly employer sets out to disrupt her grandson's loveless betrothal.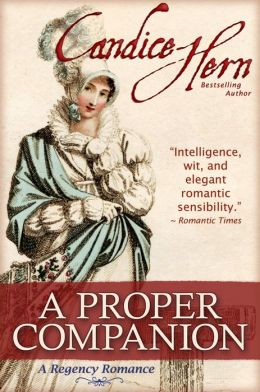 Pre-order for $2.99 from Amazon or Barnes & Noble
He thinks he is dead. But Colin Herriot, Viscount Sedgewick, has not perished in an accident with his curricle. No, he is very much alive, albeit in a great deal of pain, as he lies on the roadway and contemplates his fate. But surely it is an angel who bends down and lends him succor in his hour of need. Meg Ashburton has no pretensions of heavenly origin. A spirited country miss who has put her disastrous London Season long behind her, she is quite content to maintain her brother's household and share his interest in running one of England's most prestigious stud farms. Still, she cannot help but be drawn to the handsome lord recuperating in their best bedchamber even though nothing can possibly come of this chance acquaintance. The viscount, however, has other ideas and begins an ardent courtship of his lovely hostess. But will he survive a series of mishaps that may not be accidental at all? Discover what happens in An Affair of Honor.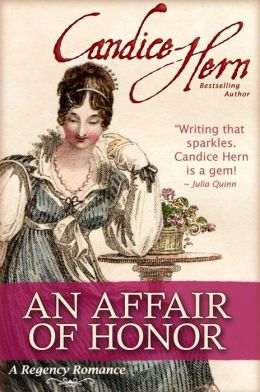 Purchase for $2.99 from Amazon or Barnes & Noble
For more terrific historical reads, make sure to out RT's Everything Romance Page. And make sure to join us every Thursday on the RT Daily Blog for our weekly column Cheaper by the Dozen where we reveal twelve of the best e-book sales of the week.