E-Sale: Tessa Dare's Spindle Cove Series
Fri, 04/26/2013 - 1:05pm — admin
Tessa Dare's Spindle Cove is like the Island of Misfit Toys for Regency women. Ladies who don't quite fit in with the era's norms — from spinsters to those too worldly for marriage — head to the coastal town of Spindle Cove for solace. But that doesn't mean the town is without men. Spindle Cove has a local military, plus your usual townsfolk that keep things in order, and with the perfect mix of intriguing ladies and single men, there's no shortage of HEAs. For those new to the series, you're in luck, because many of the stories in the series are on sale for just 99 cents. So sit back and let us a give you a tour of Spindle Cove.

***
Dare's first Spindle Cove novel, A Night to Surrender, follows Susanna Finch, founder of the female friendly seaside retreat, as she butts heads with Victor Bramwell, Earl of Rycliff, who has come to Spindle Cove with orders to start a militia to help fight off Napoleon's army. Susanna has strict rules about the number of men allowed in Spindle Cove because she wants the women who live there to feel free to be themselves, but Victor needs this assignment, and pretty soon the two can't stay away from each other. Can Susanna bend the rules for Victor and his men?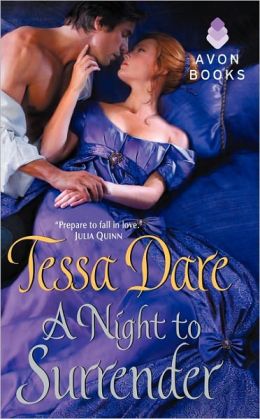 Purchase for 99 cents from Amazon or Barnes & Noble
"Once Upon A Winter's Eve" is a delightful novella in which Spindle Cove's Christmas ball is crashed by poor shipwrecked Frenchman Corentin Morvan. However, spinster Violet Winterbottom thinks there's more to the supposed farmer than meets the eye. In fact, she suspects he may be her first love, Lord Christian Pierce, the man responsible for her decision to move to Spindle Cove. But if he is Christian, why is he in Spindle Cove and what does he want with Violet?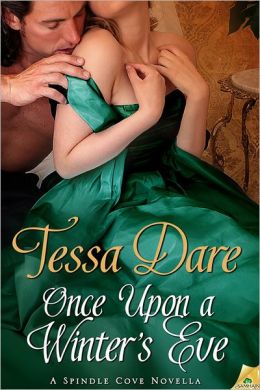 Purchase for 99 cents from Amazon or Barnes & Noble
Dare's second full length Spindle Cove adventure, A Week to be Wicked, takes love on the road. Bluestocking Minerva Highwood will do anything to keep the rakish Colin Sandhurst, Lord Payne, from proposing to her sister. Her plan is to take Colin with her on a geological trip to Scotland, so he's a safe distance from causing her sibling any harm, but as the two embark on an epic road trip, Colin learns that Minerva is much more than just her brain, and Minerva realizes that Colin is definitely a threat because he is about to steal her heart.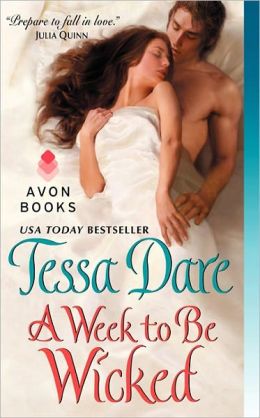 Purchase for 99 cents from Amazon or Barnes & Noble
RT senior reviewer Kathe Robin says Dare's third Spindle Cove novel, A Lady by Midnight, is " ... so beautifully written, so lovingly crafted and so touching ...." Kate Taylor is perfectly happy in Spindle Cove, but can't help wishing for love. Corporal Thorne has kept his distance, admiring Kate from afar. But when a group of strangers venture to Spindle Cove looking for Kate — claiming she is their long-lost relative and an heiress — he pretends to be her fiancé to ward them off. But when Kate reveals her true identity to Thorne, she's worried it will drive him away. But could her secret possibly bring them closer together?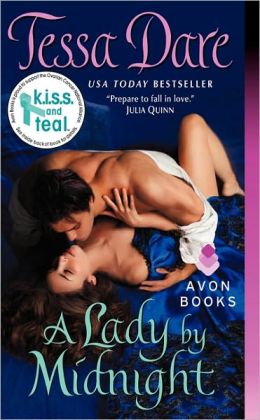 Purchase for 99 cents from Amazon or Barnes & Noble
Dare's latest installment in the Spindle Cove universe, "Beauty and the Blacksmith," isn't even released until April 30, but we suggest you pre-order the novella now because you won't want to miss quiet Diana Highwood's story. Her strict mother has Diana's life all planned out, but Diana has a more wild ideas for her future — ideas that involve Spindle Cove's sexy blacksmith Aaron Dawes. When Diana learns that he shares her desire, the two form a bond that no meddling parent can break.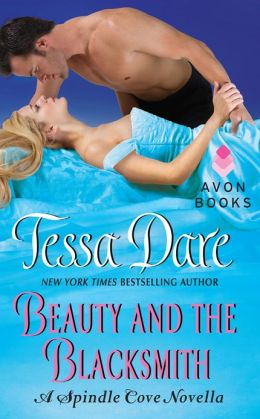 Pre-order for $1.99 cents from Amazon or Barnes & Noble
For more terrific historical reads, make sure to out RT's Everything Romance Page. And make sure to join us every Thursday on the RT Daily Blog for our weekly column Cheaper by the Dozen where we reveal twelve of the best e-book sales of the week.