Elisabeth Barrett On Her Newest "Blazing" Romance
Mon, 09/10/2012 - 1:29pm — admin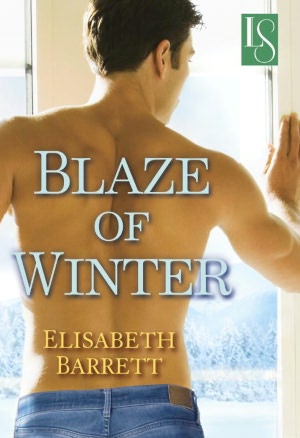 Say good-bye to summer and hello to cooler weather with Elisabeth Barrett's newly released contemporary romance Blaze of Winter. Featuring a sexy former bad-boy and the big-hearted redhead who immediately gets his attention, RT reviewer Dawn calls this story "absolutely adorable." Today Dawn asks the author about her latest book and what else readers can expect from the Grayson brothers.  
***
Theo Grayson, the hero in Blaze of Winter, is an author. But at the story's beginning he is struggling with his next book. As a writer yourself, do you ever have this same problem?
Great question! As a writer, I have not yet had a bout of "writer's block." I'm going to chalk this up to my former life as a patent attorney, where strict deadlines were the norm. You had a brief to write, and you simply wrote it, end of story. I try to bring that same approach to my fiction writing. 
This is not to say that there aren't times that I don't struggle with a scene before I write it. But even if I don't have everything worked out perfectly in my head, I'll make an attempt rather than ruminate for too long. I keep telling myself that I can't edit a blank page!
Inspired by his hometown of Star Harbor during winter as well as Avery Newbridge, Theo is finally able to write. And his topic of choice — pirates! (Or should I say privateers?) Dashing and daring, readers know what attracts us to these seafaring characters, but what about them grabs Theo's attention? 
For Theo, I'd say it's a combination of the lore and moral code surrounding privateering. Privateers were similar to pirates, but they operated under a special license from the government, making their looting and plundering legal. The complicated ethical issues that went along with this career are of great interest to Theo, and his novels explore the relationships between man and God, as well as between man and country.
Avery is in Star Harbor to help her ailing aunt as well as to regroup after some difficult professional issues. At a crossroads in her life, Avery is completely unprepared to start a relationship with Theo, but it is difficult for her to stay away. What about Theo first appeals to your heroine?
At first, Avery is drawn to his looks — specifically, his smile — but she pushes back at her attraction for a long time. She has quite a few hang-ups that she needs to get over, but Theo demonstrates that he is there for her — a strong, constant presence. What ends up hooking Avery are Theo's patience, his sense of humor, and his undeniable way with words. 
It is no surprise that Theo falls hard for Avery. She is caring, smart and is also beautiful with bright red hair — and I mean bright! Other than her stunning hair, what are three unique characteristics about Avery?
Avery gives and gives — her time, her expertise, and her love — sometimes without getting anything back in return. It's an admirable quality, but one that can be emotionally draining. She's also unfailingly loyal. Her own mother died of breast cancer, and she was raised by her Aunt Kate. When Kate falls ill, it's a no-brainer for Avery to leave her old life behind and move to Star Harbor to help Kate. Finally, she and winter weather simply do not agree with each other. She's always cold, slips and slides on slick pavement, and is just plain awful at winter sports. Theo helps to remedy this last trait, and by the end of Blaze Of Winter, Avery has learned to love the season.  
Your two characters have quite a dance before admitting to their attraction. Avery guards her emotions, while Theo takes it slow so he doesn't scare her off. What happens to the characters that makes it possible for them to take that first step into a relationship?
The key for Avery is trust. She needs to trust that whomever she's with won't let her down. Theo gets to demonstrate how trustworthy he is when he takes Avery ice skating on a frozen pond. He's an expert skater while she has never even tried to skate before. It takes a huge amount of trust for Avery to step on the ice with Theo, and he rises to the challenge, not letting her back off, and slowly, calmly teaching her to skate. By the end of the evening, Avery knows he's a pretty amazing guy.
Deep Autumn Heat introduced Seb Grayson, then his brother Theo gets his story in Blaze of Winter. Can we assume that the third in the series will be based around the spring season? And which Grayson sibling will be falling in love during May flowers?
You guessed it! Long Simmering Spring is coming out on May 13, 2013, and features Cole Grayson, who has returned to Star Harbor as the town's new sheriff. He and Julie Kensington, the local physician, have known each other since grade school, and she's less-than-impressed with the bad boy he used to be. But after stints in the military and on Boston's police force, the question isn't whether he's changed, but how much. It isn't long before Cole realizes that his sweet, sexy doctor will force him to confront his past and help him to face the future. And not to be left out of the fun, the oldest Grayson brother, DEA agent Val, is the focus of the fourth book in the series, Slow Summer Burn, which comes out in summer 2013.  
Want to get to know Theo and Avery and the rest of the Grayson clan? Then make sure to pick up Blaze of Winter available for download now for only $2.99. And for more contemporary love stories, check out RT's Everything Romance Page.