Elizabeth Boyle On What Makes A Good Family Feud
Tue, 03/26/2013 - 10:23am — admin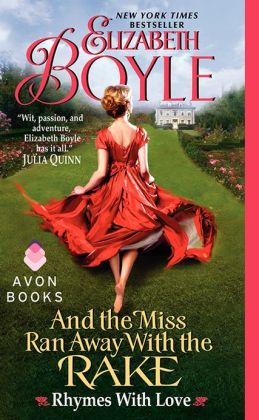 Romances involving feuding families have come a long way since the Montagues and Capulets had their issues. When done right, a romance involving two bickering families can add up to a whole lot of humor, shenanigans, and perhaps even a happily ever after if everything works out (sadly for Romeo and Juliet, this was not the case). Today Elizabeth Boyle shares why her latest Regency romance, And the Miss Ran Away with the Rake, is the perfect recipe for an enjoyable family feud.
In order to concoct a great family feud you need three elements: two passionate families and a trifling incident that might have brushed over with an apology — save for one thing — did I mention the passion part?
Meet the Seldons and the Dales. These two esteemed and noble English families have feuded for nearly three hundred years. It all goes back to Queen Elizabeth I and the summer she made a visit to Dale House and neighboring Owle Park (the Seldon family seat). Now I'm not going to say the Dales and Seldons were the best of neighbors before the Queen's visit, but after ...
If you ask a Dale, such as my heroine from And the Miss Ran Away with the Rake, Miss Daphne Dale, she will explain most logically and eloquently and passionately, that Seldon males are the worst sort of rakes, bounders and ne'er-do'wells who have ever lived. All of them. There isn't a one who isn't out to seduce and abandon every lady in his path. Faithless, untrustworthy, lying ... well, you get the picture.
The Seldons have an entirely different take on the matter. They will explain most logically and eloquently and with a healthy measure of passion that the true problem stems from the female half of the Dale clan. Blonde, willowy creatures sent from the depths of hell like a pack of sirens to drive a decent and normally sane man mad. Look no further than Lord Henry Seldon, who up and until the moment he meets Daphne Dale has been considered the dullest man alive — by his family and most of the ton.
Daphne upends his staid existence like no other woman ever could. Lord Henry stirs inside Daphne a passion that has her considering all sorts of scandal including a race for Gretna Green. Passion will once again bring this family feud back onto the main stage of London society.
Oh, and the trifling incident? It has to do with a litter of mongrel pups. We'll have to leave it to that esteemed and passionate dog of indeterminate breed, Mr. Muggins, to help patch things up.
- Elizabeth Boyle
You can pick up a copy of And the Miss Ran Away with the Rake, available in stores and online today! And for more Regency romps, visit our Everything Romance Page.