Elizabeth Eulberg Talks The Talented Mr. Darcy - With Giveaway!
Fri, 01/21/2011 - 2:06pm — admin
YA author Elizabeth Eulberg wowed us with her "inspired re-interpretation" of Austen's Pride and Prejudice which re-stages the story in a contemporary exclusive boarding school, Longbourn Academy. Discover how Eulberg transformed Darcy into a teen, and then enjoy an excerpt and enter to win your own copy of Prom and Prejudice!
Ah, Mr. Darcy. There are many words that come to mind when thinking of Jane Austen's romantic hero: aloof, loyal, handsome, rich, caring, and let's just say it, sexy (come on, you can admit that you've watched Colin Firth emerging soaking wet from the pond in the BBC version of Pride and Prejudice more than once -- oddly enough, that infamous Mr. Darcy scene is nowhere in Miss Austen's prose).
But what about Mr. Darcy as a high school junior? For my new novel Prom and Prejudice, a modern retelling of Pride and Prejudice, I had the task of taking one of the most beloved characters in literature and turn him into a high school student. No pressure.
What is it about Mr. Darcy that makes him still so dreamy even two hundred years after he first appeared in print? Sure, he's rich and handsome, but for me the appeal has always been the extent he'd go to help the people he cares about. At first, his loyalty to the people around him hurts the Bennet family (when he blatantly sabotages the relationship between Charles Bingley and Elizabeth Bennet's sister Jane because he truly thought it best for Charles). But after he realizes his true feelings for Elizabeth, there's no end to what he'd do to protect her…or her family.
It's this part of Austen's Darcy that I used as inspiration for my Will Darcy, a junior at the prestigious Pemberley Academy (Lizzie goes to the neighboring Longbourn on scholarship).
What girl (or woman for that matter) wouldn't want to meet a guy who loves you "just as you are" (as Mark Darcy says in the Austen-inspired Bridget Jones's Diary)? Being a teenager is tough: you're uncertain about so many things – who you are, what you're going to do after graduation - and are being constantly judged in the hallowed halls of teenagerdom. Imagine having someone you could turn to, someone who didn't judge you as harshly as you judge yourself, would move heaven and earth to insure your happiness.
The "perfect guy" isn't new to literature, especially young adult literature. But what I think makes Mr. Darcy such a believable character all these years later is that he isn't perfect. Nobody is. Mr. Darcy is a bit pretentious, too critical of others and sometimes socially awkward. This is what initially turned off Elizabeth Bennet in the original (and many of the readers since the book is told mostly from her viewpoint). But you start getting little snippets of the person he really is and once he let's down his guard, both Elizabeth and the readers are utterly hopeless against his charm.
So how can you retell a classic like Pride and Prejudice and make the reader not like "Will Darcy" the second they meet them? I knew that was nearly impossible, so despite making Will a little standoffish and a tad stubborn, I decided that it is extremely hard to mess with a character like that. So what was I to do? Enter my Lizzie Bennet. The biggest difference between Austen's Mr. Darcy and my Will Darcy is that my Darcy dismisses his prejudices about Lizzie a lot earlier than in the original book. It is Lizzie who's more prideful of the two. After all, what kind of person could turn away someone like Will Darcy?
In order to create the kind of tension Pride and Prejudice had (where caste systems were of the utmost importance, especially when marriage is involved), I had to move my setting to a very elite, extremely wealthy boarding school. Lizzie is a scholarship student who has been bullied due to her circumstance. So when Darcy shows up after studying a semester abroad, he rubs her the wrong way from the very beginning (interesting to note that the original title of Pride and Prejudice was in fact First Impressions). Lizzie is convinced that Darcy is just like everybody else at the school.
And so our drama unfolds. Every good love story needs some obstacles. How compelling of a read would it be if on page one our two protagonists meet and fall in love, no drama, the end? So I started playing around with the plot and other characters. And for those of you who have read Pride and Prejudice and think you've got my book figured out, you're wrong. What's the point of retelling a story if you don't make it your own?
But I'd be foolish to touch the kind of chivalry and love that Darcy has provided readers for generations.
After all, we all deserve our own Darcys…even if they are only in fiction.
- Elizabeth Eulberg
You can enjoy a taste of the teenage Mr. Darcy in this EXCERPT of Prom and Prejudice, find out what our reviewer thought in this *Web Exclusive Review* of the story and enter to win your own copy of this recent release!
GIVEAWAY ALERT: Five lucky readers will receive their own copy of Elizabeth Eulberg's Prom and Prejudice. To enter leave a comment below about if you think that you could love teenage Darcy. Or you  can email your comment here with your US mailing address and the subject line "Elizabeth Eulberg's Prom and Prejudice Giveaway." The winners will be announced on February 3rd!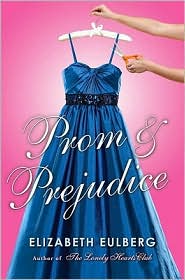 BLOG UPDATE 2/7/2012: And the winners are ... JeanSimonAnnieCindy, BookSnob, Lori C., Megan B., Margay and Mary Ellen Thompson!